Have Questions?


Our Staff will be glad to help




Selected




$796.00



R2-500 with CI-100A

---




$975.00



R2-1000 with CI-100A


The CAS R2 Series Drum Scale is a portable, low profile platform scale with integral ramps, live side rails, wheels, and handles to insure versatility and portability. Use with any general industrial indicator capable of powering up to four (4) 350 ohm load cells or order with CAS Quick Connect hardware to simply interface CAS CI-2001 Series, CI-200 Series, or CI-100A Indicators.

Features:
Low profile for easy access
Anti-Skid diamond plate deck
Integral ramps
Live side rails
Built-in casters for easy transport
Handles for portability
Top access junction box
Adjustable load cell feet
Four environmentally protected planar beam load cells
Patented load cell design and overload checking
150% load cell overload rating
High quality paint finish

OPTIONAL INDICATORS
Use with any general industrial indicator capable of powering up to four (4) 350 ohm load cells or order with CAS optional Quick Connect hardware to simply interface to CAS CI-2001 Series, CI-200 Series, or CI-100A Indicators.

PORTABILITY
The light weight R2 Series Drum Scale has two heavy duty handles and two casters built into the frame. Need to move your scales No problem. Pick it up and roll it. Its that easy!
Model
R2-500-CI100A
R2-1000-CI100A
Scale with CI-100A

Selected




$796.00






$975.00



Capacity x Readability
500 x 0.2 lb
1000 x 0.5 lb
Platform Size
31.5 x 31.5 x 1.8
800 x 800 x 46
Cable Length
10 ft - J-Box to Indicator
Overall Dimensions
Inch: 41.3 (W) x 41.3 (D) - mm: 1050 (W) x 1050 (D) x 68 (H)
Product Weight
105.8 lbs / 48 kg
Operating Environment
-10ºC ~ 40ºC / -14ºF ~ 104ºF
Display
6-digit, 7-segment , 1" (25mm) LCD with 16 annunciators and blue backlight
Display Designators
Stable, Zero, Net, Total, Unit, Percent, Counting, Hold, HI/OK/LO, Battery
Units
Kg, lb, lb:oz, g, oz, pcs (Non-Commercial only), %
Accuracy
<= 0.01% Full Scale
Function Keys
Setup/Hold, Print/Func, Acc/Total, Unit/Data, Tare/Preset, ON/OFF/Zero
Vibration Filter
Four (4) Adjustable Filter Settings - Reduce Vibration/Assist in Configuring Indicator Speed & Stability
Calibration
Linearity calibration, GEO calibration, or Input Calibration
Load Cell Capability
4 @ 350 ohm
Communication
One Full Duplex RS232 Interface, One USB Interface
Excitation Voltage
5V DC
Dimensions
6.4" (L) x 3.5" (W) x 1.2" (H)
162mm(L) x 80mm(W) x 29mm(H)
Power Source
6VDC 500mA Adapter (Included) or 4 x AA batteries
Warranty
2 Years
Base Only
Model
R2-500
R2-1000
Price
CAS CI-2001 Series Indicator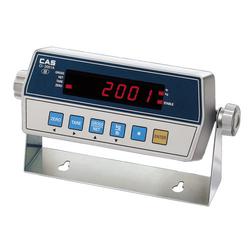 The CI-2001 Seres Indicator with RS-232. Use in a variety of applications - floor scales, livestock scales, platform scales, pallet scales, and much more. With its bright red display, the CI-2001 Series Indicator is easy to read. Legal for trade.
Compact & Simple Indicator
Power : AC Adapter
Single Pass Automatic Span Calibration
RFI/EMI Screened / Watch - Dog Function
Wall/Panel Mounting Type
kg/lb Switchable
Gross/Net/Tare
IP 65/NEMA4X Indicator enclosure(CI-2001AS/BS)
NTEP Approval number :98-103
Model
CI-2001A
CI-2001B
CI-2001AS
CI-2001BS
Input Sensitivity
2 V/D(H- 44, OIML)
0.5 V/D(Non H - 44, OIML)
Zero Adjust Range
0.05~5mV
Load Cell Excitation
DC 5V, Up to 4 350 Load Cells
A/D Conversion Speed
10 times/sec
A/D Display Resolution
5,000dd(H- 44, OIML)
30,000dd(Non H - 44, OIML)
A/D Internal Resolution
Approximately 200,000 Counts
Weight Display
6 Digit LED
(H=0.55 )
6 Digit LCD
(H=1)
6 Digit LED
(H=1)
6 Digit LCD
(H=1)
Operating Temperature
-10 C~+40 C
Dimensions(inch)
7.32(W) 2.28(D) 3.34(H)
7.87(W) 5.11(D) 2.08(H)
Product Weight(lb/kg)
Approximately 1.10/0.5
Approximately 3.30/1.5
CAS CI-100A Indicator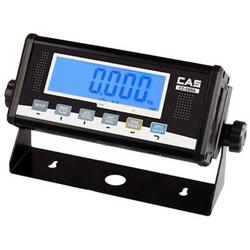 The CI-100A is a simple, yet versatile indicator with NTEP and Measurement Canada certifications suitable for legal for trade use. Functionality includes:Weight ? Count ? Percentage ? Accumulation ? Hold ? Checkweighing ? Animal Weighing Capabilities

With a display resolution up to 1/100,000, visibility is insured by a blue backlit 1" high LCD display.

Standard features include a full duplex RS232 serial interface, USB interface, multiple communication protocols, time & date, and various selectable units of measurement including lb, kg, g, oz, lb:oz, pieces (non-commercial only), and percent.
Model
CI-100A
Construction
Aluminum Alloy Housing with Desk/Wall Mount Bracket
Display
6-digit, 7-segment , 1" (25mm) LCD with 16 annunciators and blue backlight
Display Designators
Stable, Zero, Net, Total, Unit, Percent, Counting, Hold, HI/OK/LO, Battery
Units
Kg, lb, lb:oz, g, oz, pcs (Non-Commercial only), %
Accuracy
<= 0.01% Full Scale
Function Keys
Setup/Hold, Print/Func, Acc/Total, Unit/Data, Tare/Preset, ON/OFF/Zero
Vibration Filter
Four (4) Adjustable Filter Settings - Reduce Vibration/Assist in Configuring Indicator Speed & Stability
Calibration
Linearity calibration, GEO calibration, or Input Calibration
Load Cell Capability
4 @ 350 ohm
Communication
One Full Duplex RS232 Interface, One USB Interface
Excitation Voltage
5V DC
Operating Environment
-10ordm;C ~ 40ordm;C / -14ordm;F ~ 104ordm;F
Dimensions
6.4" (L) x 3.5" (W) x 1.2" (H)
162mm(L) x 80mm(W) x 29mm(H)
Power Source
6VDC 500mA Adapter (Included) or 4 x AA batteries
Product Weight
2.7 lb / 1.3 kg
Warranty
2 Years
Approvals
NTEP: COC# 16-103
Measurement Canada: AM-6044
CE, WEEE Directive, UL/CUL