CAS CL5500B-60(NE) Bench Legal for Trade Label Printing Scale 30 x 0.01 lbs and 60 x 0.02 lbs


FREE Ground Shipping *

Price: $1,861.00


In Stock



| | | |
| --- | --- | --- |
| CL-5500B (Bench) | CL-5500R (Pole) | CL-5500H (Hanging) |
Displays
The CL5500 is equipped with two high quality, easy to read LCD Displays. The operator side displays are used to show Tare Weight, Unit Weight, Unit Price and Total Price on the left. The display on the right is used to display PLU names, Scrolling Messages and Programming Menus.
Keyboard
The Double Click Call feature allows the operator to recall PLUs by doubleclicking the speed key instead of having to use the shift key. The standard Bench Model comes equipped with 96 (48 x 2) quick look up keys while the Pole and Hanging Models have 144 (72 x 2). These keys may also be programmed to be special function keys.
Printer & Label Cartridge
Achieve print speeds up to 100 mm/sec with a print resolution of 202 dpi. The removable label cartridges simple design allows operators a method of quickly and easily reloading labels.
Label Formats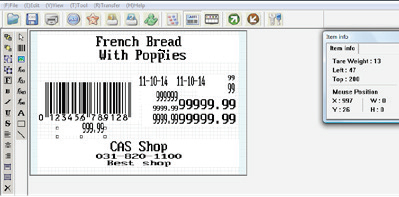 The CL5500 supports various die cut or continuous label sizes up to 200mm in length with the 50 preset label formats stored in its memory. With CL -Works Pro software, you can add up to 20 more custom label formats.
Features
30 lb and 60 lb Capacities - Dual Range
4,000 PLU s w/Direct Ingredient Messages Max 2,100 Characters
Speed Keys :

CL5500B: 96 (48 keys x 2)

CL5500R: 144 (72 keys x 2)

CL5500H: 144 (72 keys x 2)

50 Standard Label Formats/Up to 20 Custom Labels
High Speed Thermal Printer
Flash ROM for easy firmware upgrades
Multiple barcode formats
English or Spanish Characters
Same Menu Code System as the CL5000
Works with CL-Works Pro Software PLU Editor - Label Editor - Keypad Editor Compatible with Microsoft Windows® 7/8/10
Approvals - NTEP COC # 07-042A4 - Measurement Canada - Pending
Options
Wireless Networking
Full Body Protective Cover
Fish Pan
Remote Platform
Label Cartridge
CL Works Pro - PC Software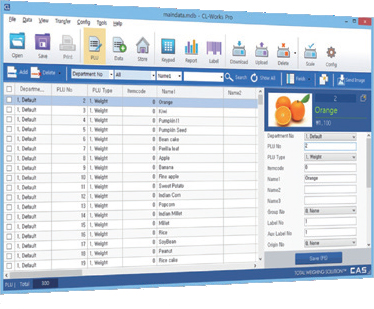 Data Editing - CL-Works Pro offers an easy-to-use data editing solution for businesses in supermarkets, grocery stores, delicatessens, and other retail markets. Manage all retail activities from PLUs to label formats.
Data Analysis - CL-Works Pro provides solution for analyzing sales data quickly, easily and accurately. The accumulated data would become an asset for users who want to get deeper insights from the data in order to make better predictions.
Compatibility - CL-Works Pro is compatible with all CL Series Label Printing Scales that use the most recent firmware. Control multiple scales remotely and efficiently manage your retail process.
Easy PLU management control for all scales
Simple PLU import & export
Manage PLUs in multiple departments
Supports WEP, WPA, & WPA2 Encryption
Software Networking Capabilities
TCP/IP Communications
100 Base T Ethernet (Built-in)
Optional IEEE 802.11n/g Wireless
Compatible Popular Scale Management Software Packages* If you use either Applied Data Corporations InterScale Scales Manager or Invatrons E-Plum to manage your scales, then you can easily add the CAS CL Family of Label Printing Scales to your network!*
*E-Plum Scale Management Software is owned and sold by Invatron Systems Corp. For more information, please visit www.invatron.com. InterScale Scales Manager is owned and sold by Applied Data Corporation. For more information, please visit www.applieddatacorp.com.
Labels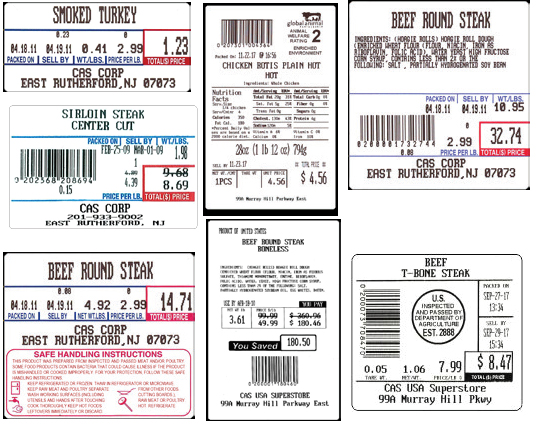 45 Standard Labels
20 Custom Labels
Available Printed Elements

Vertical Barcodes
Ingredients
Nutrition Facts
Sales Discounts
Graphics
Multiple Languages
And More!
For 15% Off


Use Promo Code


CL5500 in Cart