Adam Equipment PTS Pallet Truck Scale



Authorized Dealer

Adam Equipment's PTS pallet truck scale allows users to measure the weight of objects as they are moved from one place to another whether it's in a warehouse, on the production floor, or in the shipping department
Adam Equipment >> Pallet Truck Scales



Adam Equipment's PTS pallet truck scale allows users to measure the weight of objects as they are moved from one place to another whether it's in a warehouse, on the production floor, or in the shipping department

The sleek, low profile design of the PTS coupled along with non-marring wheels, steel pallet forks, and zero radius pivoting handle make the PTS a must have for commercial and industrial users

Included with the PTS is Adam's AE 402 indicator providing a wide range of different features and functions for fast and accurate results. The AE 402 is IP66 sealed for dust and water environments.

With nearly forty years of experience in the production of weighing equipment you can trust Adam for quality products that offer a range of features designed for many different applications

PTS Highlights

When using the PTS with the AE 402 indicator for quality control, the Check weighing feature with colored LED indicators can quickly indicate underweight, overweight and acceptable limits.
Zero turning radius pivot steering provides mobility for tight spots and the solid pneumatic pump makes for better control when handling heavy weights.
Manage overloads with ease. The capacity tracker shows where you are in the weighing range. The display monitors the weight value and warns you as you are getting to the scales capacity.
Large keys are color coded to clearly identify the more frequently used buttons. An internal rechargeable battery with auto-off power saving function, lets you use the PTS where you need it without the need to plug it in all the time.
Solid construction with non-marring polyurethane wheels, reinforced steel pallet forks and a stainless steel housing make for a durable industrial pallet truck scale.
Features
PTS Pallet Truck supplied with AE 402 indicator
Hold function
Full range tare
Backlit LCD display
Colour coded keys
Check weighing LED lights to show acceptable limits
Capacity tracker
RS-232 bi-directional interface
External calibration
Rechargeable battery up to 90 hours operation
Auto-sleep function
AC Adapter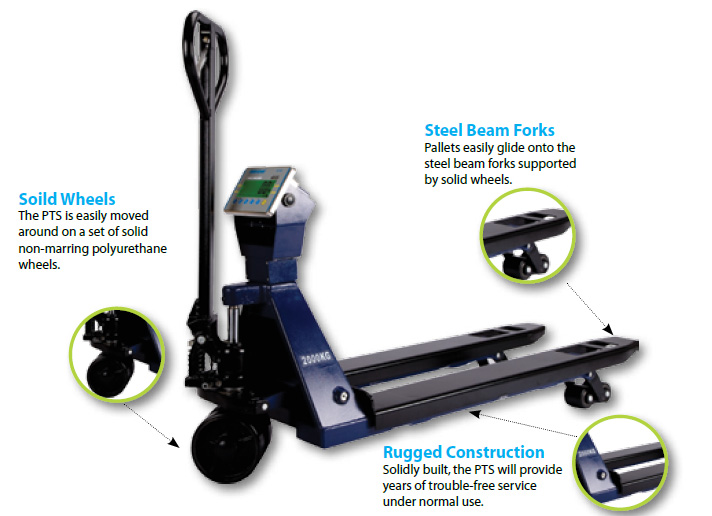 Model
PTS-5000a-AE402



$1,436.00



Capacity X Readability
4400 lb X 1 lb
2000 X 0.5kg
Linearity (+/-)
2lb / 1.0kg
Fork Size
6.3" / 160mm (W) x 45.2" / 1150mm (L)
Weighing Units
Pound (lb), Kilograms (kg), Ounces (oz)
Applications
Weighing, Accumulation, Check weighing Animal / Dynamic weighing, Percentage weighing
Stabilisation Time
2 sec
Interface
RS-232 Bi-directional
Power Supply
Switchable 115v-230vAC Output 12vDc 800mA
Calibration
External calibration
Display
Backlit LCD display with LED check weighing lights
Net Weight
275 lbs / 125kg
Overall Dimensions
61.02" x 27.2" x 48.4" / 1550 x 540 x 1230mm