Detecto's 7550 wall-mount wheelchair scale features a unique fold-up storage design that saves space when not in use. The 7550 easily accommodates most wheelchairs with its spacious 32.3-in W x 33-in D (82-cm W x 84-cm D) platform, and yet requires very little floor space when folded up. The slim 6.6-inch / 17-cm profile takes up minimal space when installed in a medical facility hallway, clinical office, or patient room.

Compact Vertical Fold-Up Platform Conserves Space
Pushbutton and Keypad Tare for Wheelchair Weights
Accommodates Some Sizes of Power Wheelchairs
May be Used on Carpet or Hard Floor Surfaces
USA-Made Quality - ISO 9001:2008
RS232 Serial and USB Ports Standard
Body Mass Index Calculation
Optional Printer Available

Compact Storage - After use, the 7550 may be folded up vertically to conserve space. Patients may be weighed in a wheelchair, chair, or standing

Optional Wi-Fi for EMR/EHR
Tilt-and-Swivel Rotating Indicator
Sturdy Steel Construction for Durability
Gas Spring Platform Lifting Mechanism
Textured, Non-Skid Mat on Ramp and Platform
Two-Way Easy Access Ramps
Platform Lip to Hold Wheelchairs in Place on Scale
EFFICIENT MEASUREMENT - The 7550's MedVue® weight indicator is the clinical industry's most advanced, featuring EMR/EHR-ready serial, USB, and optional Wi-Fi connectivity, BMI calculation, yellow "quick keys" for basic weighing, and a multiline LCD display. The scale is powered by 6 C batteries (not included) or optional AC adapter.
The 7550's 1.5-inch/38-mm high platform is very low to the ground for easy patient access. This makes the process simple and minimal effort required in order to roll a patient on and off the weighing platform
2-Way Easy Access Ramps
BMI Calculation
Compact Vertical Fold-Up Platform Conserves Space
Gas Spring Lifting Mechanism
May be Used on Carpet or Hard Floor Surfaces
RS232 Serial and USB Ports Standard
Slim 6.6-inch Profile
Spacious Platform
Sturdy Steel Construction
Wi-Fi and Ethernet Optional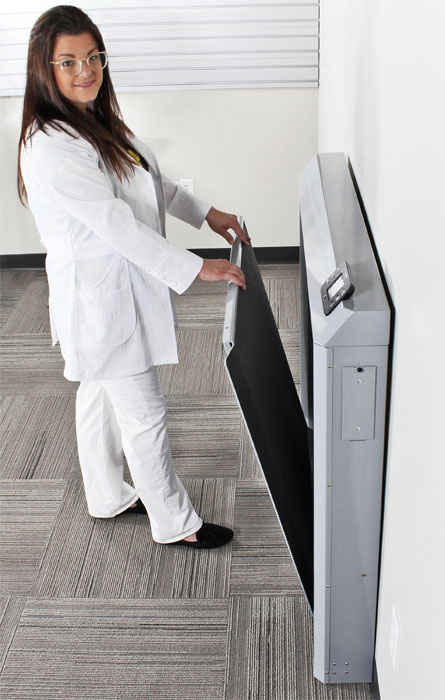 Model
7550
7550-AC
7550-C
7550-C-AC
Price

Selected




$4,414.51


In Stock - Ships within 24 hours




$4,476.67


In Stock - Ships within 24 hours




$4,422.10


In Stock - Ships within 24 hours




$4,488.54


In Stock - Ships within 24 hours

Capacity x Readability
1000 lb x 0.2 lb
1000 lb x 0.2 lb
1000 lb x 0.2 lb
1000 lb x 0.2 lb
450 kg x 0.1 kg
450 kg x 0.1 kg
450 kg x 0.1 kg
450 kg x 0.1 kg
PLATFORM DIMENSIONS (flat portion)
36 in W x 33 in D /
91 cm W x 84 cm D
Width
84 cm D Width 50.3 in
127.6 cm
Depth
39.3 in / 99.7 cm (with platform extended)
7.3 in / 18.4 cm (without platform extended)
Overall Height
44.0 in / 111.7 cm
Display Type
3.2 in (diagonal) full color TFT display, 320 x 240 resolution
Number of Characters
Weight: 5 digits, 0.8 in (20 mm) high
Height: 4 digits, 0.35 in (9 mm) high
BMI: 3 digits, 0.35 in (9 mm) high
Keys
Mechanical switch type, Power, Zero, Lock/Release, ID, Cycle Display Mode, Menu, Print
Power Requirements
Six C size Alkaline, Ni-Cad, or NiMH batteries (not included)
Domestic models: Optional 100 to 240V AC 50/60Hz 12V DC 1A wall plug-in UL/CSA listed
AC power adapter (Cardinal part number 6800-1045)
International models: Optional 100 to 240V AC 50/60Hz 12V DC 1A Multi-Pin Input AC
power adapter (Cardinal part number 6800-1047)
AC adapter
Optional
Included
Optional
Included
Connectivity
RS232, USB
RS232, USB
Wi-Fi/Bluetooth
Wi-Fi/Bluetooth
Operating Environment
Operating Temperature Range: 14 to 104 ºF (-10 to +40 ºC), Humidity: 0 to 90% noncondensing
Construction
Steel
Weighing Mechanism
Electronic load cells
Lifting Mechanism
Gas springs
Net Weight
180 lb / 82 kg
Country of Origin
USA
Shipping Weight
238 lb / 108 kg