AD-4212C
Fast Stabilization of 0.5 Seconds
Using our field-proven, Compact Super Hybrid Sensor (C-SHS) technology, the AD-4212C realizes a weighing speed of 0.5 seconds or less for 1 mg resolution (1.3 seconds for 0.1 mg resolution).
Compact Size with a 59 mm Width
Again, thanks to the C-SHS, the width of the AD-4212C is just 59 mm, making it ideal for installation in narrow spaces.
High Durability and Protection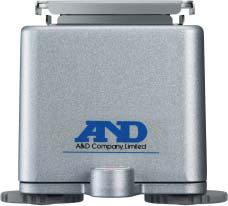 Our tests have shown that the AD-4212C can easily withstand 10 million repeated loadings or more. In addition, the AD-4212C incorporates our patented shock absorber under the weighing pan. It copes with movement in all directions so that the sensor is protected from actuator malfunctions.
IP65 Dust and Water-proof Construction
The AD-4212C is well suited for powder or liquid weighing. The IP65 construction protects it from any accidental spilling in measurement.
Direct Connection to a Panel Computer, PC, or PLC
The AD-4212C has a sophisticated analog-to-digital converter inside. It can therefore output digital data directly to an external device via its standard RS-232C interface. Whether to add a display unit, such as the AD-8923-CC/BCD or AD-8922A (both sold separately), is completely up to you.
CC-Link Connection through the AD-8923-CC
The optional remote controller, the AD-8923-CC, is equipped with a CC-Link interface. It can transmit the data received from the AD-4212C to a PLC using CC-Link, in addition to displaying the weighing results, changing response speed, and performing calibration.
Product Features
High Resolution with Fast Response
Compact Weighing Sensor can be placed anywhere in the production line
Dust & Splash-Proof protection of keyboard and display complies with IP-54
Comparator output (Hi/OK/Lo) feature for manual or automatic operation
Securable to a base by replacing leveling feet with screws
High-speed data transmission of up to 50 times/second
Easy calibration and response speed adjustment using the provided
WinCT-AD4212C software
Also comes with a free calibration mass (200 g, OIML class E2 equivalent)
LAN communication using the AD-8526 serial/Ethernet converter (sold separately)
Possible applications include the management of filling amounts (e.g. electrolyte in batteries or medicines in capsules), management of coating amounts (e.g. liquid resin on LEDs, resist ink on FPDs, grease on bearings, or solder paste on electronic parts), control of dispensed amounts (e.g. ink from ink-jet printers), and many more!
Model
AD-4212C-300
AD-4212C-3000



$3,600.00






$3,600.00



Weighing capacity
320 g
3200 g
Minimum weighing value
0.001 g
0.01 g
Stabilization time (when set to
FAST under a good environment)
0 - 30 g
0.5 sec.
0 - 300 g
0.5 sec.
30 - 320 g
1.0 sec.
30 - 3200 g
1.0 sec.
Repeatability (Standard deviation)
0.001 g
0.01 g
Linearity
±0.002 g
±0.02 g
Sensitivity drift (10 °C to 30 °C)
±2 ppm/ °C
Weighing pan
50 × 50 mm
Display refresh rate
10 vii- 50 times/second
I/O unit (RS-232C)
Bi-directional, 2400vii - 19200 bps
Sensitivity drift
±2 ppm/°C (10 °C to 30 °C / 50 °F to 86 °F)
Operating environment
5 °C to 40 °C (41 °F to 104 °F), 85%RH or less (no condensation)
Calibration mass provided
200 g (equivalent to OIML Class E2)
Dimensions
59(W) X 231(D) X 91(H) mm
Connection cable
Approx. 10 m
Power supply
AC adapter
Power consumption
Approx. 11VA (supplied to the AC adapter)