Our SHS* (Super Hybrid Sensor) now enters into the realm of semi-micro (0.01mg) balances.
What is your application? Filling capsules with medicines? Monitoring the volume of battery liquid? Or perhaps controlling the amount of resistor ink for semiconductors? Whatever it may be, if you require a high-speed, precise weighing system and are looking for a way to improve productivity and reduce costs, the AD-4212B series is definitely the best solution.
Compact
Slim separate weighing sensor unit (80mm width) for compact alignment
Precise
Semi-micro, 0.01mg weighing in a production line (AD-4212B-102)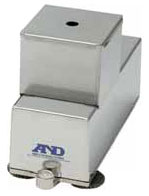 Fast
Just 4.0 seconds for 0.01mg weighing sensitivity
Durable
Chemically resistant, stainless steel (SUS304) + IP54 weighing sensor unit
Extensive Communication Functions
Standard I/O:
RS-232C interface 5-level comparator contact output with buzzer
Optional I/O:
LAN-Ethernet interface (AD4212A-08) with WinCT-Plus Software BCD output / External contact input (AD4212A-01)

The RE-ZERO and PRINT keys can be controlled externally.

A free copy of Windows Communication Tools Software (WinCT) is provided.
Shock Absorber Function*
The internal shock absorber protects the mass sensor from the adverse effects of vertical or transverse overloading. *Patent approved
Design a Special Weighing Pan
The standard weighing pan and pan support can be removed to install a weighing pan of your own design for a specific purpose.

Product Features
High Resolution with Fast Response
Compact Weighing Sensor can be placed anywhere in the production line
Dust & Splash-Proof protection of keyboard and display complies with IP-54
Standard RS-232C interface and WinCT Software for easy data collection
Model
AD-4212B-102
AD-4212B-201
AD-4212B-301
Price



$7,875.00






$6,205.50






$6,696.00



Weighing capacity
110 g
210 g
310 g
Minimum weighing value
0.01 mg
0.1 mg
Stabilization time (Typical)
Approx. 4.0 sec
Approx. 2.5 sec
Repeatability (Standard deviation)
0-30 g: 0.02 mg / 30-100 g: 0.04 mg
0.1 mg
0.2 mg
Linearity
±0.1 mg
±0.2 mg
±0.3 mg
Sensitivity drift (10 °C to 30 °C)
±2 ppm/ °C
Weighing pan
34 mm (diameter)
50 mm × 50 mm
Display refresh rate
10 times/second (5 times/second can be selected)
Connection cable
Approx. 2m (between weighing unit and display unit)
Power supply
AC adaptor
Power consumption
Approx. 11VA (supplied to the AD adaptor)