Ohaus SHHD Heavy Duty Orbital Shakers



Authorized Dealer

With load capacities from 35 to 150 lb and over 70 accessory options, OHAUS Heavy Duty Shakers are designed to handle a range of applications. Available as analog or digital models with microprocessor control to provide variable speed and consistent shaking, while ramping to the set speed. Microprocessor displays the last set-point and will restart if power is interrupted. Built-in tray and non-slip rubber mat included with all models.
Ohaus Scales



Have Questions?


Our Staff will be glad to help
With load capacities from 35 to 150 lb (16 to 68 kg) and over 70 accessory options, OHAUS Heavy Duty Shakers are designed to handle a range of applications. Available as analog or digital models with micro-processor control to provide variable speed and consistent shaking, while ramping to the set speed. Microprocessor displays the last set-point and will restart if power is interrupted. Built-in tray and non-slip rubber mat included with all models.

Standard Features:
Accu-Drive Shaking System Ensures Accuracy and Speed Control The exclusive Accu-Drive shaking system on digital models utilizes dual-speed sensors to continuously monitor and maintain shaking speed—delivering exceptional speed control, accuracy and durability.
Touchpad Control With Independent LED Displays for Speed/Time on Digital Models Touchpad controls with independent LEDs for speed/time allow operator to view all settings at once. Timer displays elapsed time or when programmed to a set time, will turn off when time reaches zero.
Safety Features Include Speed Ramping and Load Sensor Speed ramping feature slowly increases the speed to desired setpoint to avoid splashing. The load sensor (on digital models only) detects unbalanced conditions and automatically reduces rpm to a safe speed to protect samples.
Other Standard Features and Equipment Built-in tray with a non-slip rubber mat (included)
Compliance
Product Safety: CAN/CSA C22.2 61010-1, CAN/CSA C22.2 61010-2-051, UL 61010-1
Electromagnetic Compatibility: ICES-003 Class A, FCC Part 15 Class A
Compliance Marks: TÜV SÜD
Applications Cell cultures, solubility studies, extractions, bacteria and yeast cultures and suspensions, staining/destaining, immunoassays, protein studies, blotting techniques
Model
SHHD1619AL
30391307
SHHD1619DG
30391807
SHHD2325AL
30391835
SHHD2325DG
30391842
SHHD4525DG
30391863
SHHD4550DG
30391870
SHHD6825DG
30391877
SHHD6850DG
30391884
SHEX1619DG
30391809
Price



$1,751.25






$2,088.75






$3,851.25






$4,080.00






$5,801.25






$5,996.25






$6,540.00






$7,278.75






$2,876.25



Control
Analog
Digital
Analog
Digital
Digital
Digital
Digital
Digital
Digital
Motion
Orbital
0.75 in.
19 mm
Orbital
0.75 in.
19 mm
Orbital
1 in.
25 mm
Orbital
1 in.
25 mm
Orbital
1 in.
25 mm
Orbital
2 in.
51 mm
Orbital
1 in.
25 mm
Orbital
2 in.
51 mm
Orbital
0.8 in.
19 mm
Speed Range
25 to 500 rpm
15 to 500 rpm
25 to 500 rpm
20 to 500 rpm
15 to 500 rpm
15 to 300 rpm
15 to 500 rpm
15 to 300 rpm
15 to 500 rpm
Speed Accuracy
N/A
above 100 rpm ± 1% of set speed, below 100 rpm ± 1 rpm
N/A
above 100 rpm ± 1% of set speed, below 100 rpm ± 1 rpm
Timer
1 minute to 120 minutes
1 second to 160 hours
1 minute to 120 minutes
1 second to 160 hours
Max. Weight Capacity
35 lb / 16 kg
50 lb / 22.7 kg
100 lb / 45.4 kg
150 lb / 68 kg
35 lb / 16 kg
Audible Alarm
-
YES
-
YES
YES
YES
YES
YES
YES
Load Sensor
-
YES
-
YES
YES
YES
YES
YES
YES
Overload Protection
-
YES
-
YES
YES
YES
YES
YES
YES
User Calibration (Speed)
-
YES
-
YES
YES
YES
YES
YES
YES
RS232 Interface
-
YES
-
YES
YES
YES
YES
YES
YES
Working Environment
32 °F – 104 °F
0 °C – 40 °C
80% RH*
non-condensing
14 °F – 140 °F
-10 °C – 60 °C
80% RH
non-condensing
32 °F – 104 °F
0 °C – 40 °C
80% RH*
non-condensing
14 °F – 140 °F
-10 °C – 60 °C
80% RH
non-condensing
14 °F – 140 °F
-10 °C – 60 °C
100% RH
Drive System
Brushless DC Motor; Triple Eccentric
Included Tray (L x W)
11 x 13 in.
18 x 24 in.
24 x 24 in.
24 x 36 in.
11 x 13 in.
Overall Dimensions (L x W x H)
16.3 x 14 x 5.9 in.
24 x 26.7 x 5.9 in.
28.7 x 26.7 x 6.7 in.
29.3 x 36 x 6.7 in.
5.9 in. × 11.6 in. × 14 in.
Net Weight
48 lb
108 lb
199 lb
229 lb
48.1 lb
Power
120V, 5A, 50/60Hz
Power Consumption
75 W
80 W
30 W
*Relative Humidity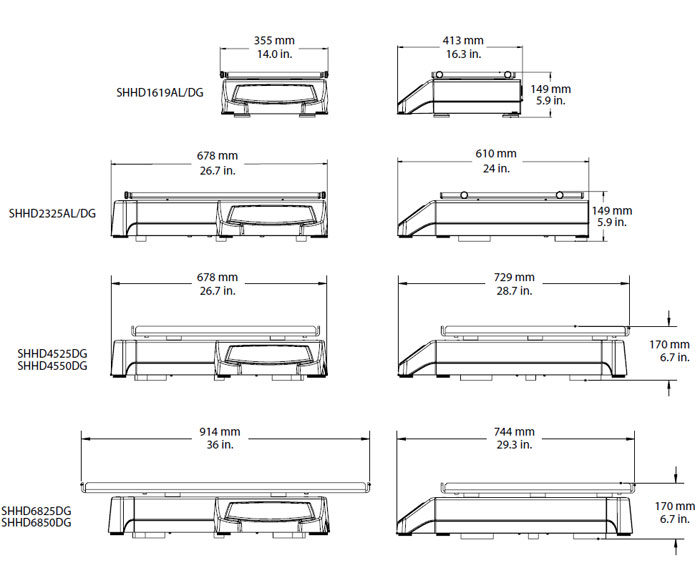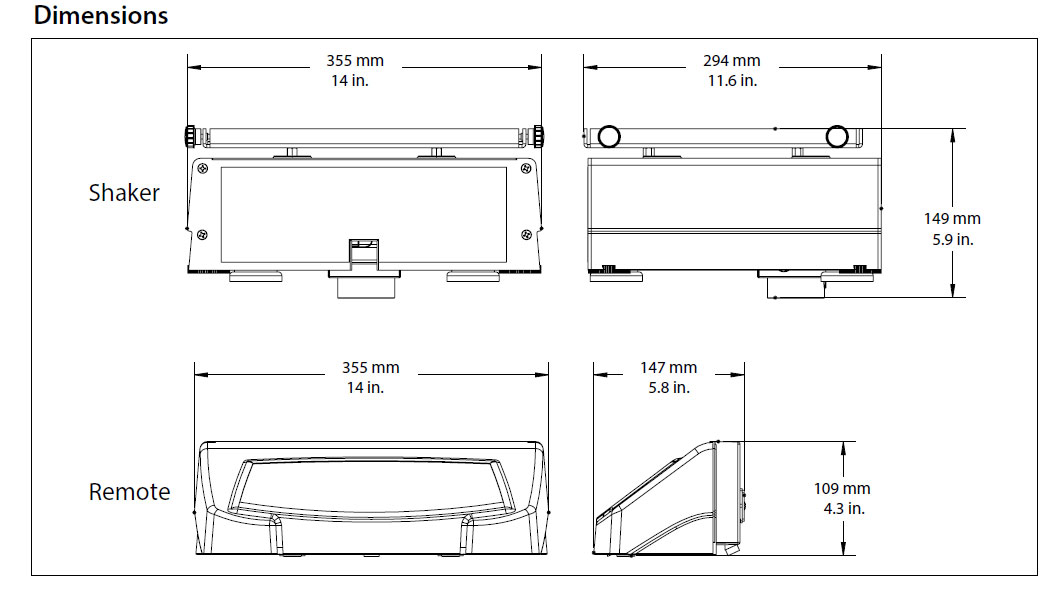 Platforms Heavy Duty Orbital Shakers
Item No.
Description
Stackable*
Image
SHHD 1619AL
SHHD 1619DG
SHHD 2325AL
SHHD 2325DG
SHHD 4525DG
SHHD 4550DG
SHHD 6825DG
SHHD 6850DG
SHEX 1619DG
Price
Accessories
30400052
Universal Platform
11 in x 13 in
28 × 33 cm
Not Stackable



$196.80



X
X
X

$196.80



Accessories
30400053
Universal Platform
13 in x 13 in
33 x 33 cm
Not Stackable


X
X
X

$281.60



Accessories
30400054
Universal Platform
18 in x 18 in
46 x 46 cm
Stackable


X
X

$336.00



Accessories
30400056
Universal Platform
30 in x 18 in
61 x 46 cm
Stackable**


X
X
X
X

$378.40



Accessories
30400057
Universal Platform
24 in x 24 in
61 x 61 cm
Not Stackable


X
X

$840.00



Accessories
30400058
Universal Platform
30 in x 18 in
76 x 46 cm
Stackable


X
X

$810.00



Accessories
30400059
Universal Platform
36 in x 24 in
91 x 61 cm
Not Stackable


X
X

$1,076.25



Accessories
30400066
Culture Platform with Mat
46 x 46 cm
Stackable


X
X

$335.20



30400067
Culture Platform with Mat
46 x 61 cm
Stackable**


X
X
X
X
X

$349.60



30400068
Adjustable Platform
46 x 46 cm
Not Stackable


X
X
X

$503.10



30400069
Adjustable Platform
61 x 46 cm
Not Stackable


X
X

$717.60



30400070
Large Vessel Carrier
76 x 46 cm
Not Stackable


X
X

$1,140.00



Accessories
30400071
Large Vessel Carrier
61 x 61 cm
Not Stackable


X
X

$1,196.25



Accessories
30400072
Large Vessel Carrier
91 x 61 cm
Not Stackable


X
X

$1,533.75



Accessories
30400075
Dedicated Platform
33 x 33 cm, 125 mL
Not Stackable


X
X
X

$522.60



30400076
Dedicated Platform
33 x 33 cm, 250 mL
Not Stackable


X
X
X

$522.60



30400077
Dedicated Platform
33 x 33 cm, 500 mL
Not Stackable


X
X
X

$522.60



30400078
Dedicated Platform
33 x 33 cm, 1000 mL
Not Stackable


X
X
X

$522.60



30400079
Dedicated Platform
46 x 46 cm, 125 mL
Stackable


X
X
X

$573.30



30400080
Dedicated Platform
46 x 46 cm, 250 mL
Stackable


X
X
X

$573.30



30400081
Dedicated Platform
46 x 46 cm, 500 mL
Stackable


X
X
X

$573.30



30400082
Dedicated Platform
46 x 46 cm, 1000 mL
Stackable


X
X
X

$573.30



30400083
Separatory Funnel Platform
46 x 46 cm
Not Stackable


X
X
X

$557.70



* To stack platforms select (2) stackable platforms of the same size and (1) tier brace kit (Item No. 30400051) **61 × 46 platforms can be used on both 16 kg and 23 kg shakers but can only be stacked on 16 kg shakers


Accessories for Universal Platform, 28 × 33 cm, S/S (Item No. 30400052)
| Item No. | Image | Description | Max. per Shaker | Price EA |
| --- | --- | --- | --- | --- |
| 30400084 | | Flask Clamp, 10 mL | 60 | $44.00 |
| 30400085 | | Flask Clamp, 25 mL | 25 | $44.00 |
| 30400086 | | Flask Clamp, 50 mL | 13 | $46.00 |
| 30400087 | | Flask Clamp, 125 mL | 10 | $46.00 |
| 30400088 | | Flask Clamp, 250 mL | 9 | $46.00 |
| 30400089 | | Flask Clamp, 500 mL | 7 | $45.90 |
| 30400090 | | 1 Liter Erlenmeyer Flask Clamp | 4 | $61.20 |
| 30400097 | | Flask Media Bottle Clamp. 500 mL | 5 | $108.73 |
| 30400098 | | Flask Media Bottle Clamp. 1000 mL | 2 | $118.69 |
| 30400099 | | Flask Clamp PVC 125 mL | 10 | $50.00 |
| 30400100 | | Flask Clamp PVC 250 mL | 8 | $45.90 |
| 30400101 | | Flask Clamp PVC 500 mL | 5 | $51.30 |
| 30400102 | | Flask Clamp PVC 1000 mL | 2 | $58.50 |
| 30400105 | | Test Tube Rack 13 mm Pivoting | 1 | $293.60 |
| 30400106 | | Test Tube Rack 16 mm Pivoting | 1 | $293.60 |
| 30400107 | | Test Tube Rack 20 mm Pivoting | 1 | $293.60 |
| 30400108 | | Test Tube Rack 25 mm Pivoting | 1 | $293.60 |
| 30400109 | | Test Tube Rack 30 mm Pivoting | 1 | $293.60 |
| 30400114 | | Microtube Rack (70 tubes per rack) | 2 | $158.53 |
| 30400115 | | Tube Rack Ø 10–13 mm (63 tubes per rack) | 2 | $168.00 |
| 30400116 | | Tube Rack Ø 14–16 mm (48 tubes per rack) | 2 | $168.00 |
| 30400117 | | Tube Rack Ø 18–20 mm (35 tubes per rack) | 2 | $168.00 |
| 30400118 | | Tube Rack Ø 22–25 mm (24 tubes per rack) | 2 | $168.00 |
| 30400119 | | Tube Rack 15 mL (35 tubes per rack) | 2 | $173.60 |
| 30400120 | | Tube Rack 50 mL (12 tubes per rack) | 2 | $173.60 |
| 30400104 | | Clamp Microplate Stainless Steel | 4 | $64.80 |
| 30400060 | | Rubber Mat, 28 × 33 cm | 1 | $63.90 |
Accessories for Universal Platform, 33 x 33 cm, S/S (Item No. 30400053)
| Item No. | Image | Description | Max. per Shaker | Price EA |
| --- | --- | --- | --- | --- |
| 30400084 | | Flask Clamp, 10 mL | 60 | $44.00 |
| 30400085 | | Flask Clamp, 25 mL | 30 | $44.00 |
| 30400086 | | Flask Clamp, 50 mL | 15 | $46.00 |
| 30400087 | | Flask Clamp, 125 mL | 12 | $46.00 |
| 30400088 | | Flask Clamp, 250 mL | 12 | $46.00 |
| 30400089 | | Flask Clamp, 500 mL | 8 | $45.90 |
| 30400090 | | 1 Liter Erlenmeyer Flask Clamp | 4 | $61.20 |
| 30400091 | | 2 Liter Erlenmeyer Flask Clamp | 3 | $87.98 |
| 30400092 | | 2.8 Liter Erlenmeyer Flask Clamp | 1 | $116.20 |
| 30400093 | | 3 Liter Erlenmeyer Flask Clamp | 1 | $157.70 |
| 30400094 | | 4 Liter Erlenmeyer Flask Clamp | 1 | $144.42 |
| 30400095 | | 5 Liter Erlenmeyer Flask Clamp | 1 | $168.80 |
| 30400096 | | 6 Liter Erlenmeyer Flask Clamp | 1 | $165.60 |
| 30400097 | | Flask Media Bottle Clamp. 500 mL | 6 | $108.73 |
| 30400098 | | Flask Media Bottle Clamp. 1000 mL | 5 | $118.69 |
| 30400099 | | Flask Clamp PVC 125 mL | 12 | $50.00 |
| 30400100 | | Flask Clamp PVC 250 mL | 10 | $45.90 |
| 30400101 | | Flask Clamp PVC 500 mL | 6 | $51.30 |
| 30400102 | | Flask Clamp PVC 1000 mL | 4 | $58.50 |
| 30400103 | | Flask Clamp PVC 2000 mL | 3 | $88.81 |
| 30400105 | | Test Tube Rack 13 mm Pivoting | 2 | $293.60 |
| 30400106 | | Test Tube Rack 16 mm Pivoting | 2 | $293.60 |
| 30400107 | | Test Tube Rack 20 mm Pivoting | 2 | $293.60 |
| 30400108 | | Test Tube Rack 25 mm Pivoting | 2 | $293.60 |
| 30400109 | | Test Tube Rack 30 mm Pivoting | 2 | $293.60 |
| 30400114 | | Microtube Rack (70 tubes per rack) | 2 | $158.53 |
| 30400115 | | Tube Rack Ø 10–13 mm (63 tubes per rack) | 2 | $168.00 |
| 30400116 | | Tube Rack Ø 14–16 mm (48 tubes per rack) | 2 | $168.00 |
| 30400117 | | Tube Rack Ø 18–20 mm (35 tubes per rack) | 2 | $168.00 |
| 30400118 | | Tube Rack Ø 22–25 mm (24 tubes per rack) | 2 | $168.00 |
| 30400119 | | Tube Rack 15 mL (35 tubes per rack) | 2 | $173.60 |
| 30400120 | | Tube Rack 50 mL (12 tubes per rack) | 2 | $173.60 |
| 30400104 | | Clamp Microplate Stainless Steel | 4 | $64.80 |
| 30400061 | | Rubber Mat, 33 × 33 cm | 1 | $76.50 |
Accessories for Universal Platform, 46 x 46 cm, S/S (Item No. 30400054)
| Item No. | Image | Description | Max. per Shaker | Price EA |
| --- | --- | --- | --- | --- |
| 30400051 | | Double Tier Braces, Set of 4 | 1 | $111.22 |
| 30400084 | | Flask Clamp, 10 mL | 113 | $44.00 |
| 30400084 | | Flask Clamp, 10 mL | 64 | $44.00 |
| 30400085 | | Flask Clamp, 25 mL | 64 | $44.00 |
| 30400086 | | Flask Clamp, 50 mL | 32 | $46.00 |
| 30400087 | | Flask Clamp, 125 mL | 20 | $46.00 |
| 30400088 | | Flask Clamp, 250 mL | 20 | $46.00 |
| 30400089 | | Flask Clamp, 500 mL | 13 | $45.90 |
| 30400090 | | 1 Liter Erlenmeyer Flask Clamp | 8 | $61.20 |
| 30400091 | | 2 Liter Erlenmeyer Flask Clamp | 5 | $87.98 |
| 30400092 | | 2.8 Liter Erlenmeyer Flask Clamp | 2 | $116.20 |
| 30400093 | | 3 Liter Erlenmeyer Flask Clamp | 2 | $157.70 |
| 30400094 | | 4 Liter Erlenmeyer Flask Clamp | 4 | $144.42 |
| 30400095 | | 5 Liter Erlenmeyer Flask Clamp | 4 | $168.80 |
| 30400096 | | 6 Liter Erlenmeyer Flask Clamp | 2 | $165.60 |
| 30400097 | | Flask Media Bottle Clamp. 500 mL | 16 | $108.73 |
| 30400098 | | Flask Media Bottle Clamp. 1000 mL | 10 | $118.69 |
| 30400099 | | Flask Clamp PVC 125 mL | 20 | $50.00 |
| 30400100 | | Flask Clamp PVC 250 mL | 18 | $45.90 |
| 30400101 | | Flask Clamp PVC 500 mL | 12 | $51.30 |
| 30400102 | | Flask Clamp PVC 1000 mL | 8 | $58.50 |
| 30400103 | | Flask Clamp PVC 2000 mL | 4 | $88.81 |
| 30400105 | | Test Tube Rack 13 mm Pivoting | 2 | $293.60 |
| 30400106 | | Test Tube Rack 16 mm Pivoting | 2 | $293.60 |
| 30400107 | | Test Tube Rack 20 mm Pivoting | 2 | $293.60 |
| 30400108 | | Test Tube Rack 25 mm Pivoting | 2 | $293.60 |
| 30400109 | | Test Tube Rack 30 mm Pivoting | 2 | $293.60 |
| 30400110 | | Test Tube Rack 10-14 mm Stationary | 2 | $330.40 |
| 30400111 | | Test Tube Rack 16-20 mm Stationary | 3 | $330.40 |
| 30400112 | | Test Tube Rack 21-25 mm Stationary | 3 | $330.40 |
| 30400113 | | Test Tube Rack 50 mL Tubes Stationary | 3 | $345.60 |
| 30400114 | | Microtube Rack (70 tubes per rack) | 4 | $158.53 |
| 30400115 | | Tube Rack Ø 10–13 mm (63 tubes per rack) | 4 | $168.00 |
| 30400116 | | Tube Rack Ø 14–16 mm (48 tubes per rack) | 4 | $168.00 |
| 30400117 | | Tube Rack Ø 18–20 mm (35 tubes per rack) | 4 | $168.00 |
| 30400118 | | Tube Rack Ø 22–25 mm (24 tubes per rack) | 4 | $168.00 |
| 30400119 | | Tube Rack 15 mL (35 tubes per rack) | 4 | $173.60 |
| 30400120 | | Tube Rack 50 mL (12 tubes per rack) | 4 | $173.60 |
| 30400104 | | Clamp Microplate Stainless Steel | 12 | $64.80 |
| 30400062 | | Rubber Mat, 46 × 46 cm | 1 | $102.09 |
Accessories for Universal Platform, 61 x 46 cm, S/S (Item No. 30400056)
| Item No. | Image | Description | Max. per Shaker | Price EA |
| --- | --- | --- | --- | --- |
| 30400051 | | Double Tier Braces, Set of 4 | 1 | $111.22 |
| 30400084 | | Flask Clamp, 10 mL | 158 | $44.00 |
| 30400085 | | Flask Clamp, 25 mL | 88 | $44.00 |
| 30400086 | | Flask Clamp, 50 mL | 44 | $46.00 |
| 30400087 | | Flask Clamp, 125 mL | 28 | $46.00 |
| 30400088 | | Flask Clamp, 250 mL | 28 | $46.00 |
| 30400089 | | Flask Clamp, 500 mL | 20 | $45.90 |
| 30400090 | | 1 Liter Erlenmeyer Flask Clamp | 12 | $61.20 |
| 30400091 | | 2 Liter Erlenmeyer Flask Clamp | 6 | $87.98 |
| 30400092 | | 2.8 Liter Erlenmeyer Flask Clamp | 3 | $116.20 |
| 30400093 | | 3 Liter Erlenmeyer Flask Clamp | 3 | $157.70 |
| 30400094 | | 4 Liter Erlenmeyer Flask Clamp | 4 | $144.42 |
| 30400095 | | 5 Liter Erlenmeyer Flask Clamp | 4 | $168.80 |
| 30400096 | | 6 Liter Erlenmeyer Flask Clamp | 3 | $165.60 |
| 30400097 | | Flask Media Bottle Clamp. 500 mL | 20 | $108.73 |
| 30400098 | | Flask Media Bottle Clamp. 1000 mL | 13 | $118.69 |
| 30400099 | | Flask Clamp PVC 125 mL | 28 | $50.00 |
| 30400100 | | Flask Clamp PVC 250 mL | 25 | $45.90 |
| 30400101 | | Flask Clamp PVC 500 mL | 16 | $51.30 |
| 30400102 | | Flask Clamp PVC 1000 mL | 10 | $58.50 |
| 30400103 | | Flask Clamp PVC 2000 mL | 6 | $88.81 |
| 30400105 | | Test Tube Rack 13 mm Pivoting | 3 | $293.60 |
| 30400106 | | Test Tube Rack 16 mm Pivoting | 3 | $293.60 |
| 30400107 | | Test Tube Rack 20 mm Pivoting | 3 | $293.60 |
| 30400108 | | Test Tube Rack 25 mm Pivoting | 3 | $293.60 |
| 30400109 | | Test Tube Rack 30 mm Pivoting | 3 | $293.60 |
| 30400110 | | Test Tube Rack 10-14 mm Stationary | 5 | $330.40 |
| 30400111 | | Test Tube Rack 16-20 mm Stationary | 5 | $330.40 |
| 30400112 | | Test Tube Rack 21-25 mm Stationary | 5 | $330.40 |
| 30400113 | | Test Tube Rack 50 mL Tubes Stationary | 5 | $345.60 |
| 30400114 | | Microtube Rack (70 tubes per rack) | 6 | $158.53 |
| 30400115 | | Tube Rack Ø 10–13 mm (63 tubes per rack) | 6 | $168.00 |
| 30400116 | | Tube Rack Ø 14–16 mm (48 tubes per rack) | 6 | $168.00 |
| 30400117 | | Tube Rack Ø 18–20 mm (35 tubes per rack) | 6 | $168.00 |
| 30400118 | | Tube Rack Ø 22–25 mm (24 tubes per rack) | 6 | $168.00 |
| 30400119 | | Tube Rack 15 mL (35 tubes per rack) | 6 | $173.60 |
| 30400120 | | Tube Rack 50 mL (12 tubes per rack) | 6 | $173.60 |
| 30400104 | | Clamp Microplate Stainless Steel | 18 | $64.80 |
| 30400063 | | Rubber Mat, 61 × 46 cm | 1 | $112.05 |
Accessories for Universal Platform, 61 x 61 cm, S/S (Item No. 30400057)
| Item No. | Image | Description | Max. per Shaker | Price EA |
| --- | --- | --- | --- | --- |
| 30400084 | | Flask Clamp, 10 mL | 221 | $44.00 |
| 30400085 | | Flask Clamp, 25 mL | 121 | $44.00 |
| 30400086 | | Flask Clamp, 50 mL | 61 | $46.00 |
| 30400087 | | Flask Clamp, 125 mL | 41 | $46.00 |
| 30400088 | | Flask Clamp, 250 mL | 41 | $46.00 |
| 30400089 | | Flask Clamp, 500 mL | 25 | $45.90 |
| 30400090 | | 1 Liter Erlenmeyer Flask Clamp | 16 | $61.20 |
| 30400091 | | 2 Liter Erlenmeyer Flask Clamp | 9 | $87.98 |
| 30400092 | | 2.8 Liter Erlenmeyer Flask Clamp | 5 | $116.20 |
| 30400093 | | 3 Liter Erlenmeyer Flask Clamp | 5 | $157.70 |
| 30400094 | | 4 Liter Erlenmeyer Flask Clamp | 5 | $144.42 |
| 30400095 | | 5 Liter Erlenmeyer Flask Clamp | 5 | $168.80 |
| 30400096 | | 6 Liter Erlenmeyer Flask Clamp | 5 | $165.60 |
| 30400097 | | Flask Media Bottle Clamp. 500 mL | 25 | $108.73 |
| 30400098 | | Flask Media Bottle Clamp. 1000 mL | 18 | $118.69 |
| 30400099 | | Flask Clamp PVC 125 mL | 41 | $50.00 |
| 30400100 | | Flask Clamp PVC 250 mL | 35 | $45.90 |
| 30400101 | | Flask Clamp PVC 500 mL | 24 | $51.30 |
| 30400102 | | Flask Clamp PVC 1000 mL | 13 | $58.50 |
| 30400103 | | Flask Clamp PVC 2000 mL | 9 | $88.81 |
| 30400105 | | Test Tube Rack 13 mm Pivoting | 4 | $293.60 |
| 30400106 | | Test Tube Rack 16 mm Pivoting | 4 | $293.60 |
| 30400107 | | Test Tube Rack 20 mm Pivoting | 4 | $293.60 |
| 30400108 | | Test Tube Rack 25 mm Pivoting | 4 | $293.60 |
| 30400109 | | Test Tube Rack 30 mm Pivoting | 4 | $293.60 |
| 30400110 | | Test Tube Rack 10-14 mm Stationary | 7 | $330.40 |
| 30400111 | | Test Tube Rack 16-20 mm Stationary | 7 | $330.40 |
| 30400112 | | Test Tube Rack 21-25 mm Stationary | 7 | $330.40 |
| 30400113 | | Test Tube Rack 50 mL Tubes Stationary | 7 | $345.60 |
| 30400114 | | Microtube Rack (70 tubes per rack) | 8 | $158.53 |
| 30400115 | | Tube Rack Ø 10–13 mm (63 tubes per rack) | 8 | $168.00 |
| 30400116 | | Tube Rack Ø 14–16 mm (48 tubes per rack) | 8 | $168.00 |
| 30400117 | | Tube Rack Ø 18–20 mm (35 tubes per rack) | 8 | $168.00 |
| 30400118 | | Tube Rack Ø 22–25 mm (24 tubes per rack) | 8 | $168.00 |
| 30400119 | | Tube Rack 15 mL (35 tubes per rack) | 8 | $173.60 |
| 30400120 | | Tube Rack 50 mL (12 tubes per rack) | 8 | $173.60 |
| 30400104 | | Clamp Microplate Stainless Steel | 24 | $64.80 |
| 30400064 | | Rubber Mat, 61 × 61 cm | 1 | $132.80 |
Accessories for Universal Platform, 76 x 46 cm, S/S (Item No. 30400058))
| Item No. | Image | Description | Max. per Shaker | Price EA |
| --- | --- | --- | --- | --- |
| 30400051 | | Double Tier Braces, Set of 4 | 1 | $111.22 |
| 30400084 | | Flask Clamp, 10 mL | 203 | $44.00 |
| 30400085 | | Flask Clamp, 25 mL | 112 | $44.00 |
| 30400086 | | Flask Clamp, 50 mL | 56 | $46.00 |
| 30400087 | | Flask Clamp, 125 mL | 36 | $46.00 |
| 30400088 | | Flask Clamp, 250 mL | 36 | $46.00 |
| 30400089 | | Flask Clamp, 500 mL | 26 | $45.90 |
| 30400090 | | 1 Liter Erlenmeyer Flask Clamp | 15 | $61.20 |
| 30400091 | | 2 Liter Erlenmeyer Flask Clamp | 8 | $87.98 |
| 30400092 | | 2.8 Liter Erlenmeyer Flask Clamp | 3 | $116.20 |
| 30400093 | | 3 Liter Erlenmeyer Flask Clamp | 4 | $157.70 |
| 30400094 | | 4 Liter Erlenmeyer Flask Clamp | 6 | $144.42 |
| 30400095 | | 5 Liter Erlenmeyer Flask Clamp | 6 | $168.80 |
| 30400096 | | 6 Liter Erlenmeyer Flask Clamp | 4 | $165.60 |
| 30400097 | | Flask Media Bottle Clamp. 500 mL | 28 | $108.73 |
| 30400098 | | Flask Media Bottle Clamp. 1000 mL | 18 | $118.69 |
| 30400099 | | Flask Clamp PVC 125 mL | 36 | $50.00 |
| 30400100 | | Flask Clamp PVC 250 mL | 33 | $45.90 |
| 30400101 | | Flask Clamp PVC 500 mL | 20 | $51.30 |
| 30400102 | | Flask Clamp PVC 1000 mL | 14 | $58.50 |
| 30400103 | | Flask Clamp PVC 2000 mL | 8 | $88.81 |
| 30400105 | | Test Tube Rack 13 mm Pivoting | 4 | $293.60 |
| 30400106 | | Test Tube Rack 16 mm Pivoting | 4 | $293.60 |
| 30400107 | | Test Tube Rack 20 mm Pivoting | 4 | $293.60 |
| 30400108 | | Test Tube Rack 25 mm Pivoting | 4 | $293.60 |
| 30400109 | | Test Tube Rack 30 mm Pivoting | 4 | $293.60 |
| 30400110 | | Test Tube Rack 10-14 mm Stationary | 6 | $330.40 |
| 30400111 | | Test Tube Rack 16-20 mm Stationary | 6 | $330.40 |
| 30400112 | | Test Tube Rack 21-25 mm Stationary | 6 | $330.40 |
| 30400113 | | Test Tube Rack 50 mL Tubes Stationary | 6 | $345.60 |
| 30400114 | | Microtube Rack (70 tubes per rack) | 8 | $158.53 |
| 30400115 | | Tube Rack Ø 10–13 mm (63 tubes per rack) | 8 | $168.00 |
| 30400116 | | Tube Rack Ø 14–16 mm (48 tubes per rack) | 8 | $168.00 |
| 30400117 | | Tube Rack Ø 18–20 mm (35 tubes per rack) | 8 | $168.00 |
| 30400118 | | Tube Rack Ø 22–25 mm (24 tubes per rack) | 8 | $168.00 |
| 30400119 | | Tube Rack 15 mL (35 tubes per rack) | 8 | $173.60 |
| 30400120 | | Tube Rack 50 mL (12 tubes per rack) | 8 | $173.60 |
| 30400104 | | Clamp Microplate Stainless Steel | 21 | $64.80 |
Accessories for Universal Platform, 96 x 61 cm, S/S (Item No. 30400059)
| Item No. | Image | Description | Max. per Shaker | Price EA |
| --- | --- | --- | --- | --- |
| 30400084 | | Flask Clamp, 10 mL | 336 | $44.00 |
| 30400085 | | Flask Clamp, 25 mL | 160 | $44.00 |
| 30400086 | | Flask Clamp, 50 mL | 94 | $46.00 |
| 30400087 | | Flask Clamp, 125 mL | 61 | $46.00 |
| 30400088 | | Flask Clamp, 250 mL | 64 | $46.00 |
| 30400089 | | Flask Clamp, 500 mL | 40 | $45.90 |
| 30400090 | | 1 Liter Erlenmeyer Flask Clamp | 24 | $61.20 |
| 30400091 | | 2 Liter Erlenmeyer Flask Clamp | 14 | $87.98 |
| 30400092 | | 2.8 Liter Erlenmeyer Flask Clamp | 7 | $116.20 |
| 30400093 | | 3 Liter Erlenmeyer Flask Clamp | 7 | $157.70 |
| 30400094 | | 4 Liter Erlenmeyer Flask Clamp | 9 | $144.42 |
| 30400095 | | 5 Liter Erlenmeyer Flask Clamp | 7 | $168.80 |
| 30400096 | | 6 Liter Erlenmeyer Flask Clamp | 7 | $165.60 |
| 30400097 | | Flask Media Bottle Clamp. 500 mL | 40 | $108.73 |
| 30400098 | | Flask Media Bottle Clamp. 1000 mL | 30 | $118.69 |
| 30400099 | | Flask Clamp PVC 125 mL | 61 | $50.00 |
| 30400100 | | Flask Clamp PVC 250 mL | 55 | $45.90 |
| 30400101 | | Flask Clamp PVC 500 mL | 38 | $51.30 |
| 30400102 | | Flask Clamp PVC 1000 mL | 22 | $58.50 |
| 30400103 | | Flask Clamp PVC 2000 mL | 13 | $88.81 |
| 30400105 | | Test Tube Rack 13 mm Pivoting | 6 | $293.60 |
| 30400106 | | Test Tube Rack 16 mm Pivoting | 6 | $293.60 |
| 30400107 | | Test Tube Rack 20 mm Pivoting | 6 | $293.60 |
| 30400108 | | Test Tube Rack 25 mm Pivoting | 6 | $293.60 |
| 30400109 | | Test Tube Rack 30 mm Pivoting | 6 | $293.60 |
| 30400110 | | Test Tube Rack 10-14 mm Stationary | 5 | $330.40 |
| 30400111 | | Test Tube Rack 16-20 mm Stationary | 5 | $330.40 |
| 30400112 | | Test Tube Rack 21-25 mm Stationary | 5 | $330.40 |
| 30400113 | | Test Tube Rack 50 mL Tubes Stationary | 5 | $345.60 |
| 30400114 | | Microtube Rack (70 tubes per rack) | 7 | $158.53 |
| 30400115 | | Tube Rack Ø 10–13 mm (63 tubes per rack) | 7 | $168.00 |
| 30400116 | | Tube Rack Ø 14–16 mm (48 tubes per rack) | 7 | $168.00 |
| 30400117 | | Tube Rack Ø 18–20 mm (35 tubes per rack) | 7 | $168.00 |
| 30400118 | | Tube Rack Ø 22–25 mm (24 tubes per rack) | 7 | $168.00 |
| 30400119 | | Tube Rack 15 mL (35 tubes per rack) | 7 | $173.60 |
| 30400120 | | Tube Rack 50 mL (12 tubes per rack) | 7 | $173.60 |
| 30400104 | | Clamp Microplate Stainless Steel | 36 | $64.80 |
| 30400065 | | Rubber Mat, 61 x 91 cm | 1 | $146.91 |
Accessories for Large Vessel Carrier Platforms
| Item No. | Image | Description | Compatible Platforms | Price EA |
| --- | --- | --- | --- | --- |
| 30400073 | | Adjustment Bar, 46 cm | 30400070 | $65.70 |
| 30400074 | | Adjustment Bar, 61 cm | 30400071 & 30400072 | $82.80 |