Ohaus NVT2200 Navigator w Touchless Sensors Portable Balance 2200 x 1 g


FREE Ground Shipping *
In Stock





Have Questions?


Our Staff will be glad to help

Rugged, Multi-Purpose Balances for a Wide Range of General Weighing Applications OHAUS raises the bar in price-performance ratio with the newly-designed Navigator series which is perfect for general weighing applications in laboratory, industrial and education settings. Ruggedly constructed and multifunctional, the Navigator is a powerful balance that can handle a diverse range of weighing applications with features such as fast stabilization time, overload protection at four times its rated capacity, and easy operation.

Standard Features:

Designed for Accuracy and Repeatability in Essential Weighing Applications Designed for a range of essential weighing applications, the Navigator offers accuracy and repeatability at a competitive pricepoint, making it a valuable tool in laboratory, industrial and education settings.
Improved Productivity with Fast Stabilization Time The Navigator series is designed to accurately stabilize in less than one second to provide fast and accurate weighing results, improving operator efficiency, productivity and throughput.
Mechanical Overload Protection Safeguards the Balance and Increases Durability An overload protection system that can withstand loads up to four times the rated capacity safeguards the balance. An integrated shipping lock protects the weighing cell during transportation/storage.
Touchless Sensor for Increased Convenience and Efficiency The Navigator's touchless sensor frees up your hands for handling samples. Users can zero, print, tare or change functions without touching the balance, keeping sample residue off the keypad.
Other Standard Features and Equipment ABS housing, stainless steel pan, transportation lock, menu and calibration lockswitch, slip-resistant and adjustable feet, leveling bubble, mechanical and software overload/underload protection, stability indicator, low battery indicator, auto shut-off, user-selectable print options, user-selectable communication settings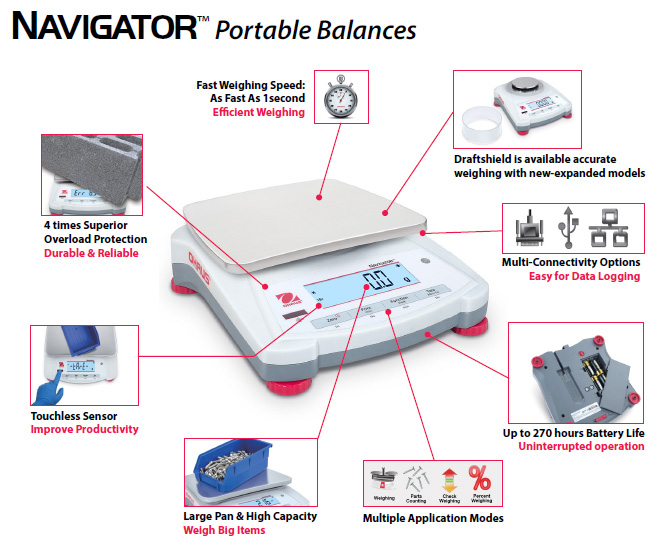 NV Specifications Chart
Model with TD52P ABS Indicator
NV123
30642238
NV223
30642239
NV323
30642240
NV222
30456410
NV422
30456411
NV622
30467960
NV1202
30642241
NV2202
30642242
NV3202
30642243
NV221
30456412
NV621
30456413
NV1201
30456414
NV2201
30456415
Price



$324.48






$360.96






$396.16






$319.20






$371.20






$378.88






$421.76






$443.52






$464.64






$186.90






$273.70






$309.40






$343.70



Capacity x Readability
120 x 0.001 g
220 x 0.001 g
320 x 0.001 g
220 x 0.01 g
420 x 0.01 g
620 x 0.01 g
1200 x 0.01 g
2200 x 0.01 g
3200 x 0.01 g
220 x 0.1 g
620 x 0.1 g
1200 x 0.1 g
2200 x 0.1 g
Pan Size
Ø 4.7 in.
Ø 5.7 in.
7.5 x 5.7 in
Stabilization Time(s)
2.5
1
1.5
2
1
Repeatability (std. Dev.)
0.002
0.01
0.02
0.2
Linearity (g)
0.003
0.005
0.02
0.03
0.05
0.2
Construction
ABS housing and stainless steel pan
Draftshield
Removable Draftshield
-
Calibration
User-selectable external span or linearity calibration / Digital with external weight
Tare Range
Full capacity by subtraction
Weighing Units
g, kg, N, oz, ozt, dwt, lb, lb:oz, ct, grain
Application Modes
Weighing, Parts Counting, Percent Weighing, Checkweighing
Power Requirement
AC adapter (included) or 4 C batteries (not included)
Typical Battery Life
200 hours
270 hours
200 hours
270 hours
Temperature Range
10 oC (50 oF) to 40 oC (104 oF) at 10% to 85% relative humidity, non-condensing
Storage Conditions
-20 oC (-4 oF) to 55 oC (131 oF) at 10% to 90% relative humidity, non-condensing
Communication
RS232, USB, or Ethernet (available as accessories)
Display Type
Liquid Crystal Display (LCD) with backlight
Display Size
0.78 in. / 20 mm digits
Balance Dimensions (W x D x H)
8 x 9.1 x 4.2 in
with draft shield

---

8 x 9.1 x 2.9 in
without draft shield
8 x 9.1 x 2.8 in.
Shipping Dimensions (W x D x H)
15.2 x 13.2 x 6.7 in
8 x 9.1 x 2.8 in.
Net Weight
2.2 lb / 1.0 kg
2.2 lb / 1.0 kg
Shipping Weight
3.3 lb / 1.5 kg
3.3 lb / 1.5 kg
Linearity Calibration Mass
50, 100 g
100, 200 g
150, 300 g
100, 200 g
200, 400 g
300, 600 g
500 g, 1 kg
1 kg, 2 kg
1.5 kg, 3 kg
100, 200 g
300, 600 g
500 g, 1 kg
1 kg, 2 kg
Span Calibration Mass*
100
200
300
200
200
300
1000
2000
3000
200
300
500
1000
*not included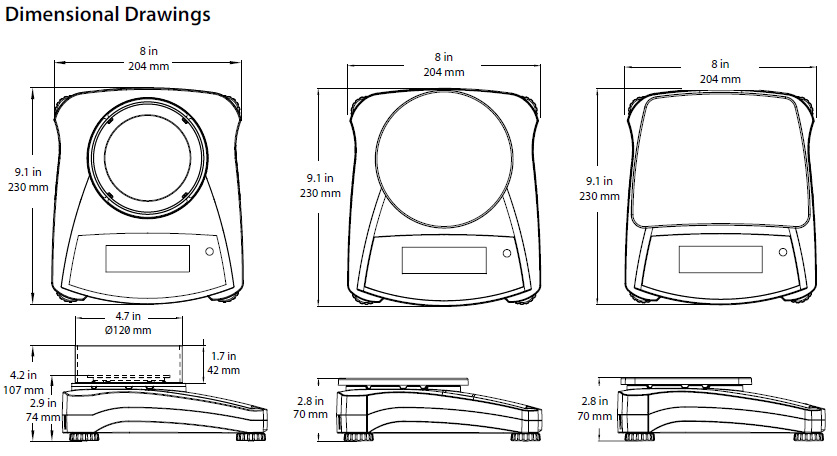 NVT Specifications Chart
Model with TD52P ABS Indicator
NVT2201
30456416
NVT4201
30456417
NVT6201
30467961
NVT10201
30642244
NVT2200
30456418
NVT6200
30456419
NVT12000
30456420
NVT22000
30456421
Price



$343.70






$392.96






$395.52






$417.28




Selected




$324.80






$392.96






$424.96






$508.16



Capacity x Readability
2200 x 0.1 g
4200 x 0.1 g
6200 x 0.1 g
10200 x 0.1 g
2200 x 1 g
6200 x 1 g
12000 x 1 g
22000 x 1 g
Pan Size
9.1 x 6.9 in.
Stabilization Time(s)
1
1.5
1
Repeatability (std Dev.)
0.1
0.2
1
Linearity (g)
0.2
2
Construction
ABS housing and stainless steel pan
Calibration
User-selectable external span or linearity calibration / Digital with external weight
Tare Range
Full capacity by subtraction
Weighing Units
g, kg, N, oz, ozt, dwt, lb, lb:oz, ct, grain
Application Modes
Weighing, Parts Counting, Percent Weighing, Checkweighing
Power Requirement
AC adapter (included) or 4 C batteries (not included)
Typical Battery Life
270 hours
200 hours
270 hours
Temperature Range
10 oC (50 oF) to 40 oC (104 oF) at 10% to 85% relative humidity, non-condensing
Storage Conditions
-20 oC (-4 oF) to 55 oC (131 oF) at 10% to 90% relative humidity, non-condensing
Communication
RS232, USB, or Ethernet (available as accessories)
Display Type
Liquid Crystal Display (LCD) with backlight
Display Size
0.78 in. / 20 mm digits
Balance Dimensions (W x D x H)
9.5 x 9.8 x 2.9 in.
Shipping Dimensions (W x D x H)
15.2 x 13.2 x 6.7 in.
Net Weight
3.3 lb / 1.5 kg
Shipping Weight
3.3 lb / 1.5 kg
5.1 lb / 2.3 kg
Span Calibration Mass*
1000
2000
5000
5000
1000
5000
5000
10000
Linearity Calibration Mass
1 kg, 2 kg
2 kg, 4 kg
3 kg, 6 kg
5 kg, 10 kg
1 kg, 2 kg
3 kg, 6 kg
5 kg, 10 kg
10 kg, 20 kg
*not included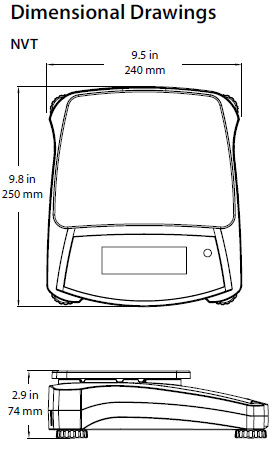 Compliance
Product Safety: IEC/EN 61010-1
Electromagnetic Compatibility: IEC/EN 61326-1 Class B, Basic environments; FCC Part 15 Class B; Canada ICES-003 Class B
Compliance Marks: CE; RCM
Accessories
USB Interface: 83032108
RS232 Interface: 83032107
Ethernet Interface: 83032109
Rechargeable Battery Kit: 83032106
Carrying Case: 30467963
Adapter with plugs: 30467987
Printer, SF40A, AM: 30064203