Available in three capacities, 4,500 lb (2,200 kg), 7,500 lb (3,400 kg) and 15,000 lb (6,800 kg), these scale systems feature center of gravity calculation and use standard, commercially available, alkaline batteries which last up to 300 hours in the scale pads and 40 hours in the indicator, minimizing down time due to battery charging or replacement. Intercomp, the Weigh Forward.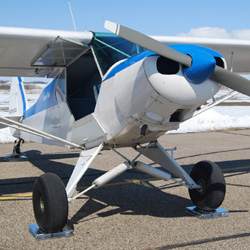 ACII Series Aircraft Scales Fully Integrated RFX™ Wireless Weighing Technology
Handheld Indicator Controls Scale Functions
4,500lb (2,200kg), 7,500lb (3,400kg) & 15,000lb (6,800kg) System Capacities Available
Calculates Center of Gravity
RS232 & USB Output on Indicator
Large, Easy to Read, LCD Display on Indicator
Standard AA Rechargeable Batteries last up to 300 Hours in Scales & 40 Hours in Handheld RFX™ Wireless Indicator
Systems Include:
Three RFX™ Wireless Scale Pads
Handheld RFX™ Wireless Indicator with Rechargeable Batteries, Battery Charger & Case
AA Alkaline Batteries for Scale Pads
Handheld Indicator info
Rfx™ Wireless Indicator Eliminates the Use of Cables
Wireless Weighing Saves Time & Increases the Efficiency & Safety of Weighing Operations
Control Scale Functions Directly from the Indicator Including On & Off
Easy to Use Indicator Allows Users to Show the Weights in Cumulative Total, Individual Weights Per Pad or Scale, and/or Center of Gravity, has the Ability to Store & Recall Up to Ten Arm Records & Offers Continuous & On Demand Print Outputs for Up to Six Scales
The Indicator also Offers a 'Read-Only' Selection for Use with Intercomp's A CWeigh or IntercompWeigh Software
Options:
IntercompWeigh™ Software
System Case
Ramps
Models
100406-RFX
100407-RFX
100416-RFX
Price



$2,965.50






$3,955.50






$6,925.50



Capacity X Graduation
4,500 x 1 lb
7,500 x 1 lb
15,000 x 1 lb
2,200 x 0.5 kg
3,400 x 0.5 kg
6,800 x 0.5 kg
Weight
85 lb
125 lb
150 lb
Dimensions:
15 x 15 x 4 inches
Accuracy
+0.1% of Reading or +1 Display Graduation, whichever is greater
General Controls
On/Off, Zero, Backlight, Print, Clear, Store/Enter, Recall, Menu, Show Arms, Show Weight, Numeric Keypad, Accum Total, Clear/Accum/Tare, Tare, Peak Hold
Views
Up to Six Scales, Scale Layout, Scale List, Gross/Tare/Net Display: 4-Digit LCD (0.5½ Characters)
Humidity
10 to 95% Non-Condensing
Temperature
-20o to 150oF (-28o to 65oC)
Overload
200% of Capacity
Battery in Scales
Standard Alkaline or Rechargeable AA
Battery Life in Scales
300 Hours
Battery in Indicator
Standard Alkaline or Rechargeable AA
Battery Life in Indicator:
40 Hours
Includes:
3 - 1,500 lb. platform scales
1 - ACII RFX indicator & case
1 - 120/220VAC, transformer and NiCad batteries
3 - 2,500 lb. platform scales
1 - ACII RFX indicator & case
1 - 120/220VAC, transformer and NiCad batteries
3 - 5,000 lb. platform scales
1 - ACII RFX indicator & case
1 - 120/220VAC, transformer and NiCad batteries
Old Intercomp ACII Aircraft Scales
Finally, a low cost yet reliable scale system available to operators for weighing light aircraft to determine center of gravity. Intercomp Introduces the ACII Economy Model Aircraft Weighing System.
This economy model enables you to justify purchasing an ultra efficient scale system versus outsourcing the work to an independent weighing service.
The ACII is built from Intercomp's fully electronic scale technology. Intercomp has supplied this technology to the world's major airlines, manufactures, maintenance centers and military branches.
This system consists of three ultralight platform scales and is cabled to the ACII indicator. The large LCD screen allows you to display each platform and total weight. Other push button controls include on/off, percentage of weight and zero.
The ACII operates from both AC and DC power sources and includes a NiCad rechargeable battery
pack and transformer. Both models weigh less than 150 lb/68 kg granting you the ultimate in portability.
Individual platforms are available in either the 4.5k Model with Three 1,500 lb/675 kg, the 7.5K Model with Three 2,500 lb/1,100 kg or the 15k Model with Three 5,000 lb/2,200 kg capacities meaning you can weigh virtually any ultralight, trainer, UAV, single engine or kit airplane. This high performance scale can easily be calibrated on site by the operator, negating the need to send the system out for required annual calibration.
SYSTEM INCLUDES:
Set of Three Platform Scales:

15"x15"x2.5"/380x380x51mm for the 4.5k model and 15"x15"x4"/380x380x100mm for the 7.5k and 15k versions.

ACII Indicators With Case
Interconnect Cables
Transformer
Batteries

100406
ACII-4.5K Qty. 3 - 1,500 lb/675 kg
capacity pads,
indicator with case, interconnect cables
and transformer (120 or 220 VAC)
Platform Size: 15 x 15 x 2.5 inch/ 381 x 381 x 64 mm



$2,965.50



100407
ACII-7.5K Qty. 3 - 2,500 lb/1,100 kg
capacity pads,
indicator with case, interconnect cables
and transformer (120 or 220 VAC)Platform Size: 15 x 15 x 4 inch/ 381 x 381 x 100 mm



$3,955.50



100416
ACII-15K Qty. 3 - 5,000 lb/2,200 kg
capacity pads,
indicator with case, interconnect cables
and transformer (120 or 220 VAC) Platform Size: 15 x 15 x 4 inch/ 381 x 381 x 100 mm



$6,925.50



1

×