1124 Series and 1124-1 Series

| | |
| --- | --- |
| | |
| Legal For Trade | Canada Measurement |



1124 Series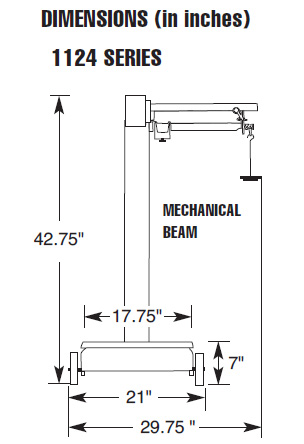 Portable Mechanical Beam Scale 1124 Series Fairbanks 1124 Series is a rugged and economical beam scale for industrial and commercial general utility weighing. Its large platform and 1,000 pound capacity make it the ideal scale for a variety of applications. The base, lever system and platform are all made of durable cast iron, providing exceptional accuracy and reliability over many years of service, with virtually no maintenance.
APPLICATIONS
Intrinsically safe
Parts distribution
Material handling
Inventory Management
Warehousing
Bag Filing
FEATURES
Cost-effective solution for basic, portable mechanical utility scale applications.
Mechanical design makes the 1124 Series perfect for all hazardous locations.
Easy to maneuver, even in tight spaces.
Easy to read, chrome-plated beam with brass inset
Open face poise with pointer in place when preset
NTEP and CWM approved for Legal For Trade applications
1100 Series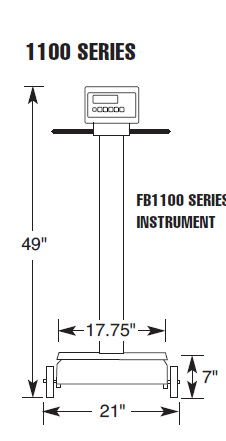 1100 Series General digital weighing Cost-effective digital solution for basic commercial utility scale applications. At the heart of Fairbanks Portable General Industrial Scales is a cast iron base and lever system with a stellar design that's served the weighing industry for more than 100 years.

Industrys most comprehensive portable line for mechanical to advanced digital weighing.

Fairbanks Scales is one of the oldest manufacturing companies in the United States. It was founded in St. Johnsbury, Vermont in 1830 by inventor Thaddeus Fairbanks, whose platform scale revolutionized commerce and trade around the globe.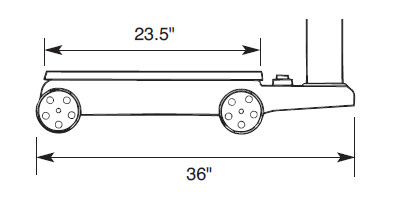 1000 lb capacity
Incredibly durable cast iron construction
Easy portability
Accurate and dependable
Portable Scale Platform/pillar Time-proven reliability
Runs on AC or built-in rechargeable battery.
Low-cost weighing solution.
Functions include on/off, units, zero, B/G net, auto tare and printing.
Large, 2.0" backlit LCD display.
RS232 bidirectional communications.
Weighs in lb and kg.
Specifications
Model
1124 Series
55652
55653
Price



$529.00






$529.00



Capacity x Readability
1000 x 0.2 lb
500 x 0.1 kg
Legal for Trade
NTEP CC# 88-266, MC #AM-4657
Construction
Cast iron
Cast iron
Column
Fabricated steel
Fabricated steel
Pan Size
23.5" x 17.75"
Wheels
5.0" diameter, cast iron
Units
lb
kg
Display
-
Enclosure
<
-
Push Button Keys
>
-
Communications
-
Power
-