Chatillon CTR-6K-N Digital Crane Scales w/ NIST Cert, 6600 lb x 1 lb




Price: $2,252.29


In Stock



The CHATILLON® CTR Series digital crane scale system is a precision weighing solution for high capacity weighing. The CTR Series consists of a precision weighing sensor and a wireless remote controller/indicator. The CTR Series is available in three capacities from 6600 lbs to 66,000 lbs (3000 to 30,000 kg). All CTR Series have a measurement accuracy of better than 0.2% full scale. The system displays measured values in either pounds (lbs) or kilograms (kg) on its remote indicator/controller that can be up to 100 ft (30 m) away from the measuring head. The CTR Series is powered using rechargeable battery pack. The scale can display the peak weight with the manual hold key. You may add accessories and tare out their weight up to 100% of the scale's rated capacity. The remote indicator/controller lets you change units, clear measurements, zero and tare out weight.
The CTR Series scale is supplied with hanging loop, S-hook, remote indicator/controller, charger/adapter with US, EU and UK plug adapter. The CTR Series is supplied with a Certificate of Conformance. An optionally available Certificate of Calibration with NIST is available.
Displays LB and Kg units of measure
Rugged, Cast Aluminum Weighing Sensor
Bright, Backlighted LCD Remote Indicator/Controller
Wireless Remote Indicator can be located up to 100 ft (30 m) away from the measuring head
Hold Weigh Capture
150% Safety Overload (500% Ultimate Overload)
Rechargeable Battery
1 Year Warranty
Standard Accessories Top Holding Loop
Bottom Swivel Hook (Permanently attached)
Battery Charger/Adapter
Remote Controller/Indicator
Certificate of Conformance
User Guide
Specifications - Weigh Sensor
Accuracy: Better than 0.2% of full scale
Safe Overload: 150% of rated capacity
Ultimate Overload: 500% of rated capacity
Display: None
Data Sampling Rate: 60Hz
Power: Rechargeable Battery
Continuous Operation: 70 hrs (typical)
Operating Temperature: 32o to 104oF (0o to 40oC)
Storage Temperature: -4o to 104oF (-20o to 40oC)
Relative Humidity: 0 to 85%
RoHS Compliant: Yes
WEEE Compliant: Yes



Specifications - Indicator Enclosure: NEMA 3
Display: Backlighted, LCD
Display Update Rate: 15 Hz
Antenna: Integral
Antenna Range: 100 ft (30 m)
Frequency: 429-433MHz
Output Level: 10 mW
Battery Life: 30 hrs (estimated continuous)
Operating Temperature: 32o to 104oF (0o to 40oC)
Storage Temperature: -4o to 104oF (-20o to 40oC)
Relative Humidity: 0 to 85%
Connectors: 9-pin
RoHS Compliant: Yes
WEEE Compliant: Yes

Model w/ NIST Cert
CTR-6K-N
CTR-11K-N
CTR-22K-N
Price

Selected




$2,252.29






$2,753.15






$2,865.33



Capacity
6600 lb x 1 lb
3000 kg x 0.5 kg
11,000 lb x 2 lb
5000 kg x 1 kg
22,000 lb x 5 lb
10,000 kg x 2 kg
Weigh Sensor - Accuracy
Better than 0.2% of full scale
Weigh Sensor - Safe Overload
150% of rated capacity
Weigh Sensor - Ultimate Overload
500% of rated capacity
Weigh Sensor - Display
None
Weigh Sensor - Data Sampling Rate
60Hz
Weigh Sensor - Power
Rechargeable Battery
Weigh Sensor - Continuous Operation
70 hrs (typical)
Weigh Sensor - Operating Temperature
32o to 104oF (0o to 40oC)
Weigh Sensor - Storage Temperature
-4o to 104oF (-20o to 40oC)
Weigh Sensor - Relative Humidity
0 to 85%
Weigh Sensor - RoHS Compliant
Yes
Weigh Sensor - WEEE Compliant
Yes
Indicator - Enclosure
NEMA 3
Indicator - Display
Backlighted, LCD
Indicator - Display Update Rate
15 Hz
Indicator - Antenna
Integral
Indicator - Antenna Range
100 ft (30 m)
Indicator - Frequency
429-433MHz
Indicator - Output Level
10 mW
Indicator - Battery Life
30 hrs (estimated continuous)
Indicator - Operating Temperature
32o to 104oF (0o to 40oC)
Indicator - Storage Temperature
-4o to 104oF (-20o to 40oC)
Indicator - Relative Humidity
0 to 85%
Indicator - Connectors
9-pin
Indicator - RoHS Compliant
Yes
Indicator - WEEE Compliant
Yes
Dimensions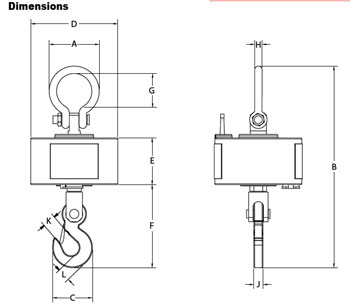 Model
A
B
C
D
E
F
G
H
J
K
L
CTR-6K
5.31"
135mm
25.60"
650mm
5.11"
130mm
11.00"
280mm
5.70"
145mm
10.70"
272mm
3.15"
80mm
0.94"
24mm
1.44"
36mm
1.58"
40mm
1.75"
44mm
CTR-11K
5.12"
130mm
28.35"
720mm
5.98"
152mm
10.63"
270mm
5.83"
148mm
12.99"
330mm
2.76"
70mm
1.10"
28mm
1.44"
36mm
2.08"
52mm
2.17"
55mm
CTR-22K
6.30"
160mm
33.86"
860mm
7.28"
185mm
10.63"
270mm
6.62"
168mm
16.14"
410mm
3.54"
90mm/td>
1.38"
35mm
1.77"
45mm
2.52"
64mm
2.56"
65mm
CTR-33K
6.69"
170mm
35.31"
897mm
7.28"
185mm
11.81"
300mm
5.55"
141mm
16.14"
410mm
5.31"
135mm
1.38"
35mm
1.38"
35mm
2.36"
60mm
2.76"
70mm
CTR-44K
7.28"
185mm
38.74"
984mm
7.87"
200mm
11.81"
300mm
5.83"
148mm
16.14"
410mm
5.31"
135mm
1.57"
40mm
1.57"
40mm
2.87"
73mm
2.95"
75mm
CTR-66K
7.87"
200mm
45.28"
1150mm
9.06"
230mm
14.57"
370mm
8.66"
220mm
18.5"
470mm
5.71"
145mm
1.77"
45mm
1.77"
45mm
3.15"
80mm
2.95"
75mm