CAS Caston II Plus Digital Crane Scale



Authorized Dealer

The Caston II Plus is a full featured industrial crane scale that is easy to see, easy to use, versatile, unquestionably safe, and designed to last! with Bluetooth
CAS Scales >> Food Service Scales >> Retail Use Scales >> Retail Scales - Advanced Search
Have Questions?


Our Staff will be glad to help
The Caston III Crane Scale is a sturdy easy to use crane scale. With capacities up to 100,000 lbs, the Caston III Crane Scale works well in light to medium industrial applications. Comes equipped with a wireless remote control. Add the TWN-B and THD-BT to utilize the Caston III Series Bluetooth capabilities
10K, 20K, 30K, 40K, 60K*, & 100K* lb Capacities (* 60K and 100K models are special order)
1.5 inch Red LED Display
Rechargeable 12v Battery
Rugged Cast Aluminum Case
Includes Remote Control, Extra Battery, and Charger
Add the TWM-B and THD-BT to utilize the Bluetooth features of the Caston III Plus
Environmentally Sealed to IP65 Standards
Convenient, easy to change battery pack
The CASTON III PLUS is ideal for heavy duty use in harsh industrial environments. The CASTON III PLUS is a full featured, rugged industrial crane scale with standard features that include a watertight enclosure, 1.5" high intensity LED display, simple, easy to use rechargeable battery pack, wireless remote control, swivel hook, and portable hand held indicator
Rugged The Caston III Plus is ideal for harsh, industrial applications.
Sun Visor A sun visor guarantees readability even in bright sun light
Remote Control Every Caston III Plus includes an infrared wireless remote control providing power on/off, tare, hold, clear, and sum functions.
Swivel Hook The swivel hook is standard on all capacities, offering 360 degree movement while also insuring safety, accuracy, and repeatability.
Easy to Read LED Display The LED displays downward tilt angle and large 1.5" characters provide the user with a clear and easy to read weight value.
Easy to Change Battery Pack Easily access the rechargeable battery pack by hand for recharging and re-installing.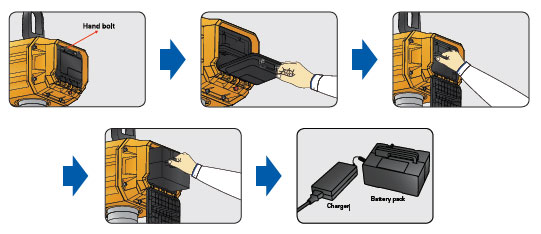 TWN Handheld Indicato The TWN Handheld Portable Indicator is included with all Caston III Plus BT Crane Scales. Already have a Caston III Plus Crane Scale and want Bluetooth connectivity? No problem. Simply install the optional Bluetooth Field Retrofit Kit and the TWN Portable Handheld Indicator for a fully operational Bluetooth crane scale

Light weight and portable
Easy to see - simple to operate
Wireless Connectivity
Increased Functionality
Built-in Rechargeable Battery
Sun Visor
The CAS TWN HAND HELD INDICATOR utilizes a high contrast, 320 x 240, TFT LCD display. The CAS TWN handheld indicator also includes a screen visor and an alphanumeric and function style keypad housed in a light weight protective enclosure.
Portable & Durable This portable handheld indicator is both durable and functional. The TWN's design incorporates a built- in rechargeable battery and offers Bluetooth wireless communication capabilities that enable transmissions in excess of 300 feet /100 meters
Data Management For data management needs, the TWN is supplied with enough on-board memory for 100 items and 5,000 transactions (including time, date, and gross weight). A wired printer or bluetooth mobile printer can be used for printing needs or simply utilize the USB to PC connection to upload/download weighing data including item number, item name, and header text to a connected PC. Item management and data back up capabilities available with CAS TW-Works software.
Model
CAST3-PLUS(10K)
CAST3-PLUS(20K)
CAST3-PLUS(30K)
CAST3-PLUS(40K)
CAST3-PLUS(60K)
CAST3-PLUS(100K)



$2,075.00






$3,295.00






$3,795.00






$4,295.00






$11,795.00






$20,295.00



Capacity x Readability
10,000 x 2 lbs
5,000 x 1 kg
20,000 x 5 lbs
1,000 x 0.5 kg
30,000 x 10 lbs
15,000 x 5 kg
40,000 x 10 lbs
20,000 x 5 kg
60,000 x 20 lbs
30,000 x 10 kg
100,000 x 20 lbs
50,000 x 10 kg
Accuracy
Plus or minus 0.1% of applied load
Maximum Tare
Full Tare
Overload
Safety: 150% of rated capacity
Ultimate: 300% of rated capacity
Housing
Alodined cast aluminum Double O-ring gasket NEMA 4 IP 65
Hook, Eye, Shackles
Crosby or equivalent
Display Type
LED / 6 Digit (1.5 inch)
Frequency (BT)
2.4 Ghz
Remote Distance (BT)
Up to 350 ft / 106.7 m
Channels (BT)
Up to 79 separate channels
Operating Power
DC 12V
Operating Time
14 - 24 hours
Power Source
AC 120V, 50/60 Hz
Display Designators
Zero, Tare, Hold, Batt
Product Weight
98 lbs
153 lbs
158 lbs
240 lbs
710 lbs
1,050 lbs
Power Consumption
1.2W
Warranty
2 Years
Operating Temp
-10oC ~ 40oC / 14oF ~ 104oF
Dimensions ** (W x H x D
11 x 13.1 x 24.8 in
279 x 333 x 630 mm
11 x 13.1 x 37.1 in
279 x 333 x 942 mm
11 x 13.1 x 44.5 in
279 x 333 x 1130 mm
11 x 13.1 x 54.3 in
279 x 333 x 1379 mm
11 x 13.9 x 55.0 in
22 x 14.3 x 73.21 in
| | |
| --- | --- |
| | |
TWN Handheld Indicator
Communication Type
Bluetooth
Communication Rate
9,600 bps
Communication Distance
Max: 300ft/100m
Display
High contrast 320 x 240 TFT LCD
Enclosure
Light weight industrial grade NEMA 4/IP65
Memory
100 items/5,000 transactions incl time/date/gross wt
Battery Charging Time
Approx 5-6 hrs
Options
Wireless or Wired Printer
Power
DC 3.6V 4,400mA rechargeable battery
DC 4.2V adapter
Operating Temp
10¢ªC ~ +40¢ªC
Interface
USB : PC connection
RS-232C : Mobile printer connection
Dimensions
4.1 (W) x 8 (H) x 2.9 (D) - Inches
104.7 (W) x 204 (H) x74.3 (D) - MM
Product Weight
1.1 lbs/0.5 kg