Ohaus Scout Pro Balances
Models SP-202, SP-401, SP-602 & SP-402

Ohaus Scout Pro Balances
Models SP-601, SP-2001, SP-4001, SP-6001 & SP-6000




Limited Time offer


Free Hard-Shell Carrying Case (a $147.60 Value !!!)
with the purchase of one of the follwing products


SP-402 -
SP-602 -
SP-4001 -
SP-6001 -

Limited Time offer


Free Ohaus 4590-30 Black Scoop (a $17.00 Value !!!)
with the purchase of one of the follwing products


Designed for use in laboratory, industrial or education applications, the OHAUS Scout® Pro features easy-to-use two-button operation, a high-contrast LCD display, multiple weighing units, four application modes, and the option of either RS232 or USB connectivity, the Scout Pro is the portable balance for your needs!

Maximum Protection Scout Pro is designed with mechanical and software protection against shock and overloading which can cause damage to the weighing cell. An integrated shipping lock protects the weighing cell during transportation or storage
RS232 or USB Connectivity Scout Pro interface accessories are easy to install at anytime, even after purchase. The data cable is integrated in the kit, eliminating the need for additional cables
Multiple Application Modes Scout Pro features Enhanced Parts Counting, Percent Weighing, Totalization and Display Hold

arts Counting ? The Scout Pro is designed for counting parts for inventory control, parts bagging, receiving, dispensing and ticket counting

Select from a sample size of 5, 10, 20 or 50 pieces while in counting mode with a quick button press
The Scout Pro features user-enabled automatic recalculation of the average piece weight ? instead of counting 100 parts for a sample, count 10 and let the Scout Pro count the rest of the sample! For applications where automatic recalculation is not desired, the easy-to-use menu system allows this feature to be disabled
The Scout Pro can also be configured for situations where only the counting feature is required

Percent Weighing Use the Percent Weighing mode to compare samples for compounding, formulation, or quick weight checking. Place your reference weight on the platform, enter the weight into memory, and the display will show the percentage of the sample weight on the platform compared to the reference weight.
Totalization Use the Scout Pro memory function to repeatedly sum the weight on the platform for compounding and formulation. Unlike other balances, the Scout Pro allows totalization up to the limit of the display!
Display Hold The Display Hold mode allows you to retain the weight of an over-sized package on the Scout Pro display. Great for postal and shipping applications!
User-Configurable The Scout Pro allows you to select active weighing units and modes using the two-button keypad. Scout Pro can be quickly configured using an on-display menu system ? there are no cryptic codes to input! A built-in lockswitch prevents reconfiguration during use.
Ohaus takes the classic Scout® balance to the next level with the all-new Scout Pro! Designed for use in laboratory, industrial or education applications, and featuring easy-to-use two-button operation, a high-contrast LCD display, multiple weighing units, four application modes, and the option of either RS232 or USB connectivity, the Scout Pro is the portable balance for you!
Simple to operate, Scout digital scales allows weighing with minimal instruction, and the large, crisp display lets you view results from any angle. A sealed front panel, molded spill ring and stainless steel platform frotect from spills and make the Scout Pro digital scales easy to keep clean.
Multiple Weighing Units – Including grams, kilograms, pounds, ounces, a combined pound:ounce display, troy ounces and pennyweights - change weighing units at the touch of a button
Multiple Application Modes – Including enhanced parts counting, percentage weighing, totalization, and display hold

Enhanced parts counting with average piece weight recalculation
Totalization for summing sample weights - only Ohaus Scout Pro digital scales allows repeated summation to the limit of the display, not just the capacity of the balance
Percent weighing for comparing sample weights to a reference weight
Display hold for weighing large packages - only Ohaus Scout pro offers this feature in a portable balance
Below-balance weighing using integral weigh below hook for density determination

Easy to Use – The high-contrast LCD display combined with two key operation makes the Scout Pro a snap to operate
USB or RS232 Connectivity – Quickly-installed option with integral cable allows data connection to PC or printer - Only Ohaus Scout Pro offers USB capability in an economical portable balance
Easy to Clean – Removable stainless steel weighing platform, sealed front panel and molded spill ring help keep the Scout Pro safe from spills
Battery or AC Power – Uses 4 ´AA´ batteries with auto shut-off feature for 40 hours of operation, or the Scout Pro can be run on the included AC powerpack
Integral Weigh-Below Hook – Critical for density or specific gravity determination
Integral Security bracket
Integral shipping lock to protect the weighing mechanism during transportation
Sealed front panel and molded spill ring to protect the balance during use
Physical lockswitch to allow the balance to be locked into a specific configuration, reducing operator error
2 year Ohaus warranty
Model
SP123
SP202
SP402
SP602
SP401
SP601
SP2001
SP4001
SP6001
SP6000
Price
Capacity (g)
120
200
400
600
400
600
2000
4000
6000
6000
Readability (g)
0.001
0.01
0.01
0.01
0.1
0.1
0.1
0.1
0.1
1
Repeatability (Std. Dev.) (g)
0.003
0.01
0.01
0.01
0.1
0.1
0.1
0.1
0.1
1
Linearity (g)
±0.003
±0.01
±0.01
±0.02
±0.1
±0.1
±0.1
±0.1
±0.2
±1
Capacity x Readability (kg)
-
-
-
-
-
-
2.0000 x 0.0001
4.0000 x 0.0001
6.0000 x 0.0001
6.000 x 0.001
Capacity x Readability (oz)
4.23290 x 0.00005
7.0550 x 0.0005
14.1095 x 0.0005
21.645 x 0.0005
14.110 x 0.005
21.165 x 0.005
70.550 x 0.005
141.095 x 0.005
211.645 x 0.005
211.65 x 0.05
Capacity x Readability (lb)
-
-
-
1.32280 x 0.00005
-
1.3230 x 0.0005
4.4090 x 0.0005
8.8185 x 0.0005
13.2280 x 0.0005
13.230 x 0.005
Capacity x Readability (lb:oz)
-
-
-
1lb:5.165 oz x 0.001 oz
-
1lb:5.165 oz x 0.01 oz
4lb:6.550 oz x 0.01 oz
8lb:13.095 oz x 0.01 oz
13lb:3.65 oz x 0.01 oz
13lb:3.65 oz x 0.05 oz
Capacity x Readability (ozt)
-
6.4300 x 0.0005
12.8605 x 0.0005
19.2905 x 0.0005
12.860 x 0.005
19.290 x 0.005
64.300 x 0.005
128.605 x 0.005
192.905 x 0.005
192.90 x 0.05
Capacity x Readability (dwt)
-
128.60 x 0.01
257.21 x 0.01
385.81 x 0.01
257.2 x 0.1
385.8 x 0.1
1286 x 0.1
2572.1 x 0.1
3858.1 x 0.1
3858 x 1
Application Modes
Parts Counting with Average Piece Weigh Recalculation, Percentage Weighing, Totalization, Display Hold
Tare Range
To Capacity By Subtraction
Over Range Capacity
Capacity +90d
Stabilization Time
3 seconds
Operating Temp. Range
50° to 104°F / 10° to 40°C
Power Requirements
AC Adapter (included) or 4 AA Batteries (not included)
Calibration Type
Digital Calibration from Keypad
Calibration Mass (Full Span)
100 g
200 g
400 g
600 g
400 g
600 g
2000 g
4000 g
6000 g
6000 g
Calibration Mass (Linear)
50 g
100 g
200 g
300 g
200 g
300 g
1000 g
2000 g
3000 g
3000 g
Display
High Contrast LCD with 6 digits 0.6in / 15mm high
Pan Size (in/cm)
3.6 Ø / 9 Ø
4.7 Ø / 12 Ø
6.5 x 5.5 / 16.5 x 14.2
Dimensions WxHxD (in/cm)
7.5 x 4.4 x 8.3
19.2 x 10.8 x 21
7.56 x 2.13 x 8.27 / 19.2 x 5.4 x 21.0
Net Weight (lb/kg)
1.5 / 0.7
1.8 / 0.8
Shipping Dimensions WxHxD
10 x 4 x 12 in / 25.4 x 10.2 x 30.5 cm
Shipping Weight (lb/kg)
4 / 1.8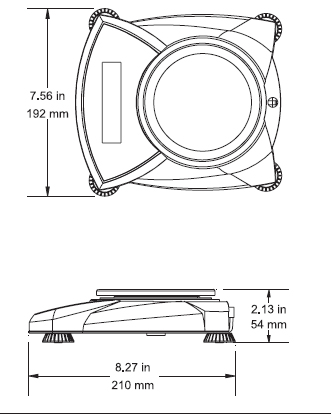 ---
Ohaus Scout Pro
The Ohaus scout pro has been one of the longest and best selling scales for portable and stationary weighing. The scales have been on the scale market for over 10 years and trusted by tens of thousands of jewelers , laboratory technicians , food weighing, animal weighing, and many other scale weighing applications.

The Ohaus scout pro has always found its niche in the market by offering so many capacities that it can weigh almost anything under 13lbs or 6,000 grams. It has precisions or accuracies of 1mg , 1 tenth of a gram, 1 one hundredth of a gram and 1 gram. Some of the smaller capacities come with free calibration weights but all models can be calibrated with an external calibration weight.

All models fit in a standard Ohaus carrying case for easy travel which makes this a perfect scale for on the go weighing or stationary weighing with protection from being dropped. The Ohaus scout also comes with safe overloads so in the event you do put more weight on it than the scale can weigh up to, it will not automatically damage the scale. The scales also have many weighing modes such as grams, ounces , troy ounces and penny weights. In addition the scales are extremely light . The scale weighs approximately 2 lbs which makes it a favorite for transport. The ohaus scout pro also has a parts counting mode which is great for inventory checks or pill counting by pharmacies. With so many weighing applications available to it, its no wonder this scale is one of the best selling portable scales available today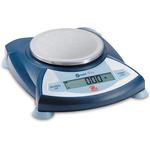 A scale is an invaluable tool to a business that needs to weigh regularly. We've found jewelers are selling or weighing there gold now more than ever thanks to the increased price of gold or chef's are weighing there ingredients for best results or even schools have replaced there old fashioned triple beam scales or other mechanical scales with the ohaus scout pro. We have even found the scales in blood banks and retail shops because they fit perfectly in a corner shelf or they went traveling with individuals having gold parties regularly

The ohaus scout pro can be powered by batteries or an ac adapter which comes included with every model purchased. The scales also include a weigh below hook which is critical for density and specific gravity determination. The Ohaus scout can also be interfaced with an RS-232 serial connection or a USB connection. Ohaus recently began selling a USB plug in kit or the RS-232 serial kit which can be added at the time of purchase or anytime after purchase thanks to its simple plug and play feature. Another feature recently added by Ohaus is a bubbling leveler which will help insure your scale is always leveled and prevent inaccurate readings. There is also a security bracket on the scale which will accommodate a security lock.

Its no wonder the boy scouts of America loves the Ohaus scout pro for preparing their race cars for the pinewood derby scout race. The ohaus scout also comes with a 2 year warranty.

Next time you need a scale try the Ohaus scout pro, we know you wont be disappointed.
---