| | |
| --- | --- |
| GF-200P - 210 x 0.001g < | GF-300P - 310 x 0.001g |




For Wholesale Pricing

Please Call 800-832-0055

No Minimum
Can be used in all states that allow an electronic balance. Pharmacopia approved; meets Handbook 44 requiremnets for a "Class A" prescription balance.
Pill counting features complies with Handbook 44 requiremnets
Fast, Super Hybrid Sensor (SHS) gives you the ultimate in response speed - just ONE Second!
Nine weighing modes
GLP/GMP/ISO compliance
WinCT data collection software included
Tough die-cast aluminum housing
Removable stainless steel pan (5"x5")
NTEP & Pharmacopia approved (CofC# 04-077P)
IP54 splashproof operator keyboard protects against dust and pills, stainless steel weigh pan
Data memory function
Quick reference operation card
Five year warranty
Vacuum fluorescent display
These balances have met the rigorous standards set forth by the National Conference on Weights and Measures Handbook 44, for legal-for-trade use. The GF Legal-for Trade balances are ideal for pharmacy and retail applications or any situation that requires a legal-for-trade toploading balance.

Gf balance include outstanding features such as an IP54 splash proof keyboard and display, a bright vacuum

Fluorescent display, bi-directional RS-232C and display auto power off. The balances are standard with large square weighing pans, a front leveling bubble, and an instruction card that swings out from the bottom of the balance for quick reference.
Specifications:
Legal-for-Trade Prescription Balance
Breeze Break Included
Ideal for Pill Counting & Compounding
Large, Bright Vacuum Fluorescent Display
One Second Response Time
Meets Handbook 44 Requirements
Multiple Weighing Units for "Class A" Prescription Balance
5 Year Warranty

See Low Price in Cart


Stainless Steel
Construction
Models
GF-200P
GF-300P



$1,038.75






$1,237.50



Capacity X Readability
210g x 0.001g
310g x 0.001g
Legal-for-Trade
210g x 0.01g
310g x 0.01g
NTEP Class II - CofC# 04-077
Linearity
±0.002g
Sensitivity drift
±2ppm/oC
Min. unit weight
0.001g
Units of Measure
Gram, Decimal ounce, Troy ounce, Pennyweight, Carat, Momme, Grain unit, Pound, Pound/Ounce
Display
Vacuum Fluorescent Display (VFD)
Display update
5 times/second or 10 times/second
Operating temp.
5°C to 40°C (41°F to 104°F), 85%RH or less (No condensation)
Power supply
Approx. 11VA (supplied by AC adapter)
Weighing pan size
128 x 128mm (5.04 x 5.04inch
Dimensions
210(W) x 317(D) x 86(H)mm (8.27 x 12.48 x 3.39inch)
Weight (approximately)
Approx. 3.8kg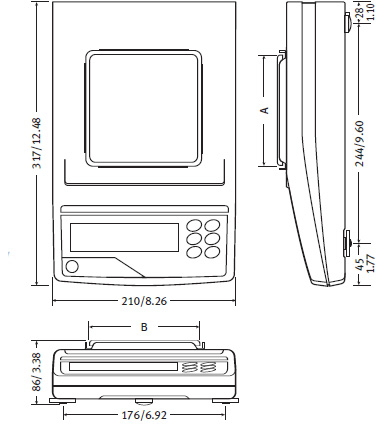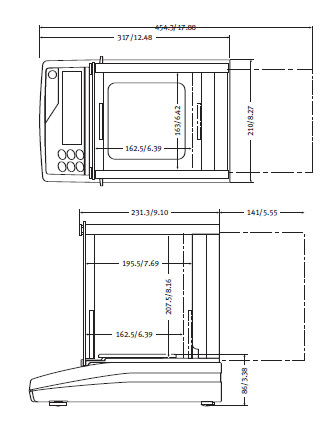 Pan Size (mm/inches)
| Model | A | B |
| --- | --- | --- |
| GF-200-p/GF-300-p | 128/5.03 | 128/5.03 |