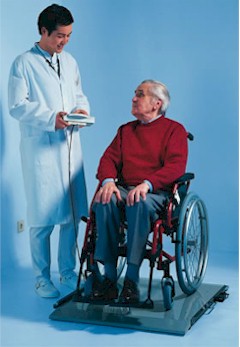 The Seca 674 digital high capacity platform scale features extensive high technology and a capacity of 800 lbs.
This multifunctional digital flat scale is designed especially for people needing assistance while being weighed and works in a variety of applications including wheelchair weighing, veterinary scale or dialysis weighing. Due to the extremely flat and large platform with a built-in ramp, weighing patients in wheelchairs or seated during dialyses is practically effortless with the Seca 674.
The Seca 674 floor scale has an integrated pre-TARE-function that determines the patient's net weight in seconds. This platform scale also features a HOLD-function, which continues to display weight in large, easy-to-read figures even after the scale is no longer loaded.
The Seca 674 ships with transport castors for easy portability and the remote display unit can be easily placed on a table or mounted to a wall. An AC power adapter is included with the Seca 674.
Capacity: 800 lbs (360 kg)
Readability: 0.2 lbs (100 g)
Accuracy >± 0.15% / 100 g
Dimensions: 2-1/8 x 31-3/8 x 44-5/8"
Base Dimensions: 2" x 31.37" x 44.62"
Power: AC adapter
Memory: Weight value memory for three wheelchairs
Functions: tare, hold
Warranty: 2 years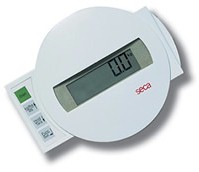 The remote display (pictured above) an be placed on table or mounted to wall