One stand for both compression (push) and tension (pull) tests
Maximum clearance 9"
(with extender 14")
Maximum load 110 lbs
Screw feeder for smooth, positive movement
Combination of screw drive system and high performance brushless motor provides extremely smooth and powerful operation over the entire speed range.
No programming required
Optional digital distance meter
Speed Configurations
| | |
| --- | --- |
| Standard Speed | 0.4 ~ 11.5" / min |
| Optional High Speed | 0.8 ~ 23.6" / min |
| Optional Low Speed | 0.26 ~ 8" / min |
MV-110 test stands offer consistent and reliable testing. Combination of screw system and state of the art brushless motor provides extremely smooth and powerful operation over the entire speed range. The MV-110 accepts any of the standard range Imada force gauges. Quick switch and Emergency Stop features are also included.
Optional Data Buttons and Data Software
Imada DB-Series data input buttons work with Imada SW software to automate data collection from Imada force or torque gauges. Enter peak measurements into the spreadsheet and "zero" the gauge with a touch of the button. Minimize computer time and mouse usage
Click here for more info...
Optional Lexan Safety Shield
1/4" unbreakable lexan
Helps protect personnel from injury by containing debris during testing
Allows access to the control panel
The Lexan safety shield offers protection to the operators of motorized test stands. Access to the test stand controls is still available through the front of the shield. Made of 1/4" lexan, it is virtually unbreakable and will contain the debris from destructive testing. Helps to prevent accidental injuries. Fits all Imada motorized vertical test stands. Dimensions 16.5" x 15.75" x 31.5"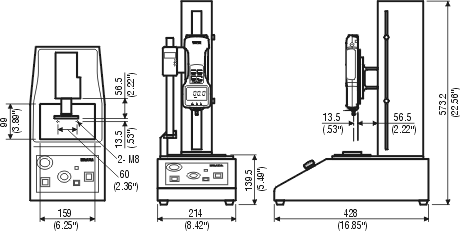 Imada MV-110 diagram