Optional black carrying case with
handle protects the scale for easy transport
Detecto's reliable DR400-750 digital physician scale is lightweight and portable, making it perfect for mobile clinics, home care nurses, or wherever a portable scale with Body Mass Index is needed. The remote digital indicator comes with a wall-mount bracket and easily mounts on a counter top or wall. The indicator features large 0.75 high digits in an LCD display, selectable units, Body Mass Index and a Lock/Release key for holding weight after a patient has stepped away from the scale. The 750 quickly calculates Body Mass Index by simply entering the patient's height while weighing.
The DR400-750 is battery powered, so you can take the scale anywhere you need it. The unit has a slip-resistant mat to ensure patient safety when getting on and off the scale
Body Mass Index
Selectable Units
Automatic Display Lock
Slip-Resistant Mat
Battery Powered
Specifications Chart
Model
DR400-750

$479.00

Capacity
400 lb x .2 lb
180 kg x 0.1 kg
Platform
12" x 12"
305 mm x 305 mm
Display
0.75" high digits - LCD
BMI Height Range
3 to 7 ft
90 to 215 cm
Power
6 "AA" size batteries or optional AC adapter.
Shipping Weight
13 lb / 6 kg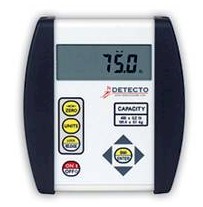 750 Digital Weight Indicator
Detecto's model 750 display features an easy-to-use keypad and extra-large display perfect for patient weighing and viewing by the attending nurse, physician, or patient themself. A quick and simple BMI calculator with a scroll feature to input height allows you the ease of BMI calculation when you require it. The durable design and easy-to-replace ?AA? batteries make the 750 perfect for all clinics, hospitals, and physician offices' scales.
Body Mass Index
Body Mass Index (BMI) measurements have been shown to be an accurate estimate of health risk when used as part of a comprehensive health assessment. Simply press the 750's arrow keys to scroll to the desired height and touch the BMI key to view the percentage.
Extra-large, 0.75 inch high digits on an easy-to-read LCD display.
Engineered for freedom of patient weighing.
Just touch the BMI key and utilize the toggle arrows to adjust the patient height for the BMI calculation.
Compact design is ergonomic and easy for the patient to weigh.
Use either 6 ?AA? batteries or the AC adapter (optional).
Easy to remove from the scale column for battery replacement.
Lock/Release key for viewing weight after the patient steps away from the scale.
Units conversion for LB or KG.
Heavy steel construction for years of service.
750 Indicator Specifications
Model
750 Indicator
Power Requirements
6 "AA" size Alkaline, Ni-Cad or NiMH batteries ( not included ) OR an optional 100 to 240 VAC 50/60Hz 12 VDC 1A wall plug-in UL/CSA listed AC power supply.
Operating Temperature
14 to 104 ║F (-10 to +40 ║C)
Display
Six digit, seven segment, 0.7 inch high LCD
Sensitivity
0 to 2.4 mV/V
Signal Input Range
0 to 12mV max
Transducer Excitation
5.0 VDC
Resolution
2,500 divisions
Capacity
400 x 0.2 lb (181.4 x 0.1 kg)
Division Value
1, 2, or 5
Sample Rate
1 to 16 samples per second
Auto Zero Range
0.5 or 1 through 9 divisions
Weighing Units
Pounds, kilograms, pounds/kilograms and kilograms/pounds
Keyboard
Membrane type with 5 keys and 4 directional arrows
Enclosure Size
6.125" W x 6.75" H x 1.75" D
16 cm W x 17 cm H x 4 cm D
Construction
Painted Steel
>