Pretty and stable: with their pure, light design, these scales will make a good impression in any clinic. A stable, powdercoated steel casing, a circular display and an easy to clean tread area of imitation leather – what more does one need for comfortable weighing? The seca 750 is available in three versions: kilograms, pounds and kilograms/pounds.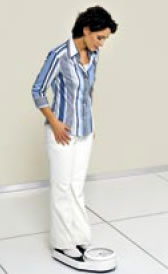 The Seca 750 mechanical dial bathroom scale possesses a rugged durability with a big dial, at a lower price thanks to 21st century design. A lower profile and wider platform enhance utility.
Seca 750 Mechanical Bath Scale is practical with its sturdy, powder-coated steel housing, circular dial and an easy to clean mat of white imitation leather. The Seca 750 home use scale has a lower profile and a wider platform.
320 lbs capacity
1.0 lb graduations
Rugged Metal Construction
Durable And Long Lasting
Extremely Portable
Low profile, wide platform
1-year limited warranty
Color: Black