The ergonomically shaped tray with high rounded sides makes it easy to weigh larger babies. A new backlit LCD display ensures comfortable reading of the digits, even in dimmed rooms. Power supply is by power adapter or rechargeable batteries. With everything primed for the future and integration in any EMR system, measurements can be transmitted via the seca 360° wireless system
A special integrated damping system together with the auto-HOLD function for quick, precise weighing even if the baby is restless
Seca makes routine work easier for doctors, nurses and other caregivers. The seca 727 does just that ? by giving them a highly flexible, wireless user experience. Its state-of-the-art weighing technology is now accurate down to a single gram and features a special damping system, making weighing fast, safe and precise. You can even unplug it and use it anywhere with its rechargeable battery power supply.
The damping system ensures fast and precise measurements - A baby can certainly be fidgety while being weighed, but this is no problem with the seca 727. Even if the baby is moving and starts to wriggle around, the scale delivers precise measurements within seconds thanks to its highly sensitive weighing technology. Its optimized damping system levels off any vibrations caused by the babys movements, enabling medical staff to concentrate completely on the weighing process.
Comfortable and reliable weighing process. - The large weighing tray makes the baby feel safe and secure. Its generous size even allows small children of up to 44 lbs to be weighed easily in a seated position. Made of a special plastic material, it quickly adjusts to the body temperature, giving the baby a sense of comfort. A new backlit LCD display ensures comfortable reading of the digits, even in dimmed rooms. Reading becomes easier than ever due to the auto-HOLD function. It freezes the measurement result on the display for five minutes with battery operation and endlessly with power supply. Medical staff can then take care of the baby before reading and recording the weight.
Paperless and error-free wireless transmission of measurements. - With the seca 360° wireless technology, the seca 727 can transmit measurements to the optional seca 360° wireless digital printer. With the network-capable software solutions seca analytics 115 or seca emr flash 101 and wireless USB adapter seca 456, your PC can receive and analyze measurements and forward them to an Electronic Medical Record (EMR) system. The seca 727 is EMR-integrated, ready to handle digital patient records and all the demands the future will bring.
Capacity: 44 lbs / 20 kg
Graduations: 0-22 lbs x 0.1 oz and 22-44 lbs x 0.2 oz (0-10 kg x 2 g and 10-20 kg x 5 g)
Product Dimensions: (HxWxD) 6" x 21-1/2" x 11-3/4"
Weight: 15.7 lbs / 7.1 kg
Power supply: Power adapter / rechargeable batteries
Functions: Automatic switch-off, TARE, HOLD,auto-HOLD, weighing range switch-over, kg/lbs switch-over, damping
Data transmission: wireless technology seca 360° wireless
System compatible with: 360° wireless printer advanced seca 466, 360° wireless printer seca 465, software seca analytics 115 and seca emr flash 101, 360° wireless USB adapter seca 456
Additional measuring tape: Measuring range: 0 - 20" / 0 - 50 cm Graduation: 1/8" / 1 mm
Specifications
Seca 727
Price


Capacity x Readability
22 lb x 0.1 oz and 44 lb x 0.2 oz
10 kg x 2g and 20 kg and 5g
Dimensions (WxHxD):
21.7 x 5.9 x 12.6"
Measuring range
0 - 20" / 0 - 50 cm Graduation: 1/8" / 1 mm
Functions
utomatic switch-off, TARE, HOLD,auto-HOLD, weighing range switch-over, kg/lbs switch-over, damping
Data transmission
wireless technology seca 360° wireless<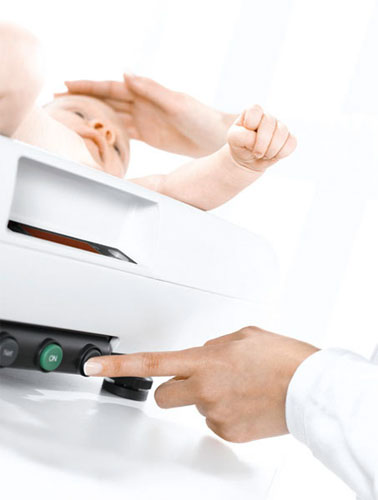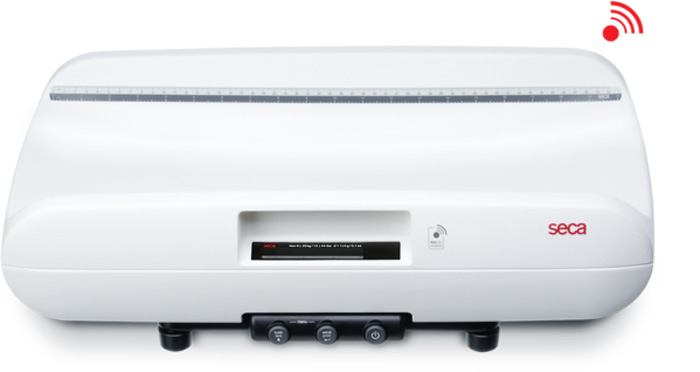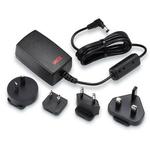 optional Seca462 Scale Cart for 727 and 728 infant scales