Model
6550
6560 with Handrail
6570 with Handrail and Seat









Capacity x Readability
1000 lb x 0.2 lb
1000 lb x 0.2 lb
1000 lb x 0.2 lb
450 kg x 0.1 kg
450 kg x 0.1 kg
450 kg x 0.1 kg
Handrail
-
YES
YES
Seat
-
-
YES
Platform Size
32 in x 36 in x 2.2 in
81 cm x 91 cm x 5.6 cm
Connectivity
RS232 serial, USB and optional wired and Wi-Fi Ethernet
Display
5 digit, 7 segment, 7/8 inch (22.23 mm) high LCD weight digits
LCD Display Dimensions
3.5 in W x 3 in H
89 mm W x 76 mm H backlit blue LCD
Keypad
19 key, color-coded, sealed membrane
Power
Optional model MV1PWR AC adapter or 6 C batteries (not included)
Resolution
5,000 divisions, max.
Operating Temperature
14 to 104oF (-10 to 40oC)
Ramp Size
36 in (91.4 cm) W x 7.9 in (20.2 cm) L each
Country of Origin
USA
Net Weight
100 lb / 45 kg
116 lb / 53 kg
140 lb / 63 kg
Shipping Weight (Truck)
120 lb / 54 kg
126 lb / 57 kg
150 lb / 68 kg
More Options
6550 Options
6560 Options
6570 Options
UPC Code
809161139402
809161302202
809161302301
6550 Portable Wheelchair Scale
Model
6550
6550-AC
6550-C
6550-C-AC












Capacity x Readability
1000 lb x 0.2 lb
1000 lb x 0.2 lb
1000 lb x 0.2 lb
1000 lb x 0.2 lb
450 kg x 0.1 kg
450 kg x 0.1 kg
450 kg x 0.1 kg
450 kg x 0.1 kg
Power
Optional model 6800-1045 AC adapter or 6 AA batteries (not included
AC adapter(included) or 6 AA batteries (not included
Optional model 6800-1045 AC adapter or 6 AA batteries (not included
AC adapter(included) or 6 AA batteries (not included
Indicator
MedVue� Model MV1
Indicator Dimensions
9.8 in W x 6.8 in H x 1.8 in D

---

24.9 cm W x 17.2 cm H x 4.6 cm D
LCD Digits
0.9 in / 22 mm high LCD, 5 digit, 7 segment
Display
Weight: 5-digit, 7-segment, 7/8 inch (22.2 mm) high LCD
Height: 4-digit, 7-segment, 1/2 inch (12.7 mm) high LCD
Keypad Buttons
ON/OFF, ZERO, UNITS, LOCK/RELEASE, NET/ GROSS, TARE, ID/HEIGHT, BMI, PRINT/ENTER, alphanumeric keys
Connectivity
RS232 serial and USB
RS232 serial and USB
RS232 serial, USB, and WiFi/Bluetooth
RS232 serial, USB, and WiFi/Bluetooth
Operating Temperature
14 to 104 �F / -10 to +40 �C
Platform Dimensions
26.5 inch W x 30 inch D (673 mm W x 762 mm D)
Shipping Weight
120 lb / 54 kg
Country of Origin
USA
UPC Code
809161138702
809161317909
809161320206
809161324303
6560 Portable Wheelchair Scale
Model
6560
6560-AC
6560-C
6560-C-AC












Capacity x Readability
1000 lb x 0.2 lb
1000 lb x 0.2 lb
1000 lb x 0.2 lb
1000 lb x 0.2 lb
450 kg x 0.1 kg
450 kg x 0.1 kg
450 kg x 0.1 kg
450 kg x 0.1 kg
Power
Optional model 6800-1045 AC adapter or 6 AA batteries (not included
AC adapter(included) or 6 AA batteries (not included
Optional model 6800-1045 AC adapter or 6 AA batteries (not included
AC adapter(included) or 6 AA batteries (not included
Indicator
MedVue� Model MV1
Indicator Dimensions
9.8 in W x 6.8 in H x 1.8 in D

---

24.9 cm W x 17.2 cm H x 4.6 cm D
LCD Digits
0.9 in / 22 mm high LCD, 5 digit, 7 segment
Display
Weight: 5-digit, 7-segment, 7/8 inch (22.2 mm) high LCD
Height: 4-digit, 7-segment, 1/2 inch (12.7 mm) high LCD
Keypad Buttons
ON/OFF, ZERO, UNITS, LOCK/RELEASE, NET/ GROSS, TARE, ID/HEIGHT, BMI, PRINT/ENTER, alphanumeric keys
Connectivity
RS232 serial and USB
RS232 serial and USB
RS232 serial, USB, and WiFi/Bluetooth
RS232 serial, USB, and WiFi/Bluetooth
Operating Temperature
14 to 104 �F / -10 to +40 �C
Resolution
5,000 divisions, max.
Platform Dimensions
32 in x 36 in x 2.2 in / 81 cm x 91 cm x 5.6 cm
Ramp Size
36 in (91.4 cm) W x 7.9 in (20.2 cm) L each
Net Weight
116 lb / 53 kg
Shipping Weight
126 lb / 57 kg
Country of Origin
USA
UPC Code
809161302202
809161317008
809161321203
809161325508
6570 Portable Wheelchair Scale with Seat
Model
6570
6570-AC
6570-C
6570-C-AC












Capacity x Readability
1000 lb x 0.2 lb
1000 lb x 0.2 lb
1000 lb x 0.2 lb
1000 lb x 0.2 lb
450 kg x 0.1 kg
450 kg x 0.1 kg
450 kg x 0.1 kg
450 kg x 0.1 kg
Power
Optional model 6800-1045 AC adapter or 6 AA batteries (not included
AC adapter(included) or 6 AA batteries (not included
Optional model 6800-1045 AC adapter or 6 AA batteries (not included
AC adapter(included) or 6 AA batteries (not included
Indicator
MedVue� Model MV1
Indicator Dimensions
9.8 in W x 6.8 in H x 1.8 in D

---

24.9 cm W x 17.2 cm H x 4.6 cm D
LCD Digits
0.9 in / 22 mm high LCD, 5 digit, 7 segment
Display
Weight: 5-digit, 7-segment, 7/8 inch (22.2 mm) high LCD
Height: 4-digit, 7-segment, 1/2 inch (12.7 mm) high LCD
Keypad Buttons
ON/OFF, ZERO, UNITS, LOCK/RELEASE, NET/ GROSS, TARE, ID/HEIGHT, BMI, PRINT/ENTER, alphanumeric keys
Connectivity
RS232 serial and USB
RS232 serial and USB
RS232 serial, USB, and WiFi/Bluetooth
RS232 serial, USB, and WiFi/Bluetooth
Operating Temperature
14 to 104 �F / -10 to +40 �C
Resolution
5,000 divisions, max.
Platform Dimensions
32 in x 36 in x 2.2 in / 81 cm x 91 cm x 5.6 cm
Ramp Size
36 in (91.4 cm) W x 7.9 in (20.2 cm) L each
Seat
Fold-up Seat Included
Net Weight
140 lb / 63 kg
Shipping Weight
150 lb / 68 kg
Country of Origin
USA
UPC Code
809161302301
809161317206
809161321302
809161325607
Detecto MV1 MedVue Medical Weight Analyzer Indicator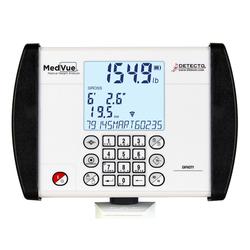 Detecto's MedVue� medical weight analyzer is utilized on select clinical scales. The MedVue� features a striking blue 3.5-in-wide by 3-in-high backlit LCD display screen with nearly 1-in-high weight digit readouts for easy visibility. The MedVues 350-degree swivel mounting bracket allows the display to be tilted and rotated into position wherever it is the most convenient for the medical professional and/or patient to view. A host of other benefits include 14-digit patient ID which may be entered via the alphanumeric keypad, 99 stored tare weights, 200 stored transactions, 1LOOK display, and four different languages available in set-up (English, Spanish, French, and German). The MedVue� offers a host of both wired and optional wireless connectivity for sending measurement data to
Versatile Connectivity - DETECTO's MedVue medical weight analyzer offers a host of different options, both wired and optional wireless, for DETECTO scales to connect with multiple devices for efficient EMR/EHR. Connect with:
Printers
PCs
Networks
Tablets
Bar Code Scanners
Even Mobile Phones
BENEFITS OF WI-FI CONNECTIVITY - DETECTOs MedVue offers optional Wi-Fi connectivity with up to 20 ft. range (varies depending upon environmental conditions). Wi-Fi offers a number of benefits over Bluetooth, including greater range and security.


Almost every MedVue port may be used simultaneously (with the exception of Ethernet and Wi-Fi connections). For instance, a printer could be connected to the serial port, PC connected to the USB port, while a tablet is connected via Wi-Fi all at the same time. DETECTOs model P50 printer offers plug-and-play compatibility with the MedVue
350-Degree Swivel Mounting Bracket - Enjoy freedom of movement wherever you need to position the display with the MedVues 350-degree tilt-and-swivel mounting bracket.
EASY SET-UP NAVIGATION - DETECTOs MedVue indicator features a tiered menu system with up/down navigation controls to quickly update any settings you wish to change, such as converting to kilograms-only weighing or lowering the backlight intensity to make the batteries last longer
MULTIPLE LANGUAGE SETTINGS - DETECTOs MedVue features user-prompting in four different languages:
English
Spanish
French
German
14-Digit Patient ID
350-Degree Swivel Mounting Bracket
6 AA Batteries (not included)
99 Stored Tare Weights
BMI Calculation
EMR/EHR Ready
Nearly 1-in-High Weight Readouts
NTEP Legal for Trade
RS232 Serial and USB Ports Standard
Sturdy Steel Construction
Wi-Fi and Ethernet Optional


Detecto medical scales are made in the USA

�