Frequent weight checks of frail, handicapped, and elderly patients can be a tremendous, time-consuming task without the proper equipment. Detecto simplifies that job with a selection of innovatively-designed chair scales. Developed to ensure patient safety and comfort as well as to reduce weighing time, Detecto chair scales are conveniently portable and offer easy side or front access for your special patients. The arms raise easily on both models, so the patient can be conveniently assisted into and out of the chair scale.

The Detecto 6475 digital chair scales feature waist-high LCD readouts allowing rapid weighing with accuracy to .2 lb or .1 kg. Battery power enhances these electronic scales' portability. A 115 VAC power adapter is available as an option.
Features: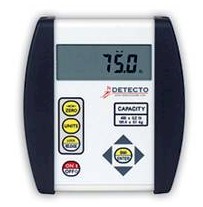 Power x 3 with the new 750 Weight Display
The new Detecto 750 weighing indicator is the perfect weight display for all applications. The recharging circuitry is "Built-In" to the 750 display. Utilizing the AC-adapter and installing Ni-Cad "AA" batteries, you can have a truly free standing scale in any office environment.
Operate up to 250 hours on new alkaline batteries.
Operate up to 100 hours on NiCad batteries before recharging. (Recharging time is approximately 8 hours and the scale can be operated during this time.)
Model
6475
6475-AC
6475-C
6475-C-AC
6475K















Capacity x Readability
400 lb x 0.2 lb
400 lb x 0.2 lb
400 lb x 0.2 lb
400 lb x 0.2 lb
180 kg x 0.1 kg
180 kg x 0.1 kg
180 kg x 0.1 kg
180 kg x 0.1 kg
180 kg x 0.1 kg
Power
Optional model 6800-1045 AC adapter or 6 AA batteries (not included
AC adapter(included) or 6 AA batteries (not included
Optional model 6800-1045 AC adapter or 6 AA batteries (not included
AC adapter(included) or 6 AA batteries (not included
Optional model 6800-1045 AC adapter or 6 AA batteries (not included
Indicator
Model 750
Indicator Dimensions
6.1 in W x 6.8 in H x 1.8 in D

---

15.5 cm W x 17.2 cm H x 4.6 cm D
LCD Digits
0.7 in / 19 mm high LCD, 6 digit, 7 segment
Keypad Buttons
ON/OFF, ZERO, UNITS, LOCK/RELEASE, BMI/ENTER, PRINT, arrow keys
Connectivity
RS232
RS232
Wi-Fi/Bluetooth
Wi-Fi/Bluetooth
RS232
Operating Temperature
14 to 104 ºF / -10 to +40 ºC
Shipping Weight
78 lb / 35 kg
Country of Origin
USA
UPC Code
809161138207
809161322903
809161320107
809161323009
809161138306


Detecto medical scales are made in the USA