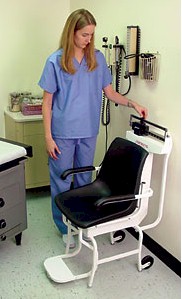 Frequent weight checks of frail, handicapped, and elderly patients can be a tremendous, time-consuming task without the proper equipment. Detecto simplifies that job with a selection of innovatively-designed chair scales. Developed to ensure patient safety and comfort as well as to reduce weighing time, Detecto chair scales are conveniently portable and offer easy side or front access for your special patients. The arms raise easily on both models, so the patient can be conveniently assisted into and out of the chair scale.

Detecto 475 mechanical chair scales are available in pounds or pounds/kilos models. Die-cast, easy-to-read beams are readable from the front and back. Black vinyl upholstery is complimented by the metal supporting structure.
Sturdy construction combines with time-saving design features in the most functional chair scales anywhere. Complete with heavy-duty understructure, these scales come fully assembled and ready to use. Pleasing tones blend with any clinical environment, and these units can be used in relatively small spaces - on carpet or tile.
Features:
Capacity: 400 lbs x 4 oz
Die cast, easy to read beam from both size
Oversized wheels for transport
Lift away arms and footrest


Detecto medical scales are made in the USA