| | | |
| --- | --- | --- |
| | | |
Ohaus Explorer Pro Laboratory Scales

The Explorer Pro Series of standard level balances was designed for simplicity and includes the industry's easiest user interface for easy setup and operation; no training is required. The Explorer Pro offers all the features and durability found in high-end laboratory balances plus the traditional Ohaus quality and support for years of trouble free use!

Standard Features on All Explorer Pro models:

Simple 2-key menu navigation
Text prompts for fast setup
Seven application modes plus below balance weighing
Brilliant backlit high resolution dot matrix display
RS232 port for easy communication with computer or printer
GLP compliant with user selectable outputs
Five language operational display text
Protective in-use cover and security bracket
2 year Ohaus warranty
NTEP Legal for Trade approved models

Explorer Analytical Balances

Explorer Pro Analytical
(EP64, EP114, EP214, EP214D)

Model Number:
EP64
EP114
EP214
EP214D

Price

$2800.00

$2850.00

$3250.00

$3150.00

with AutoCal & Legal-For-Trade
EP214DCN

Price

$3250.00

Capacity (*draft shield included)
*62 g
*110 g
*210 g
*100/210 g
Readability (g)
0.0001
0.0001
0.0001
0.0001/0.001
Weighing Modes
g, mg, oz, oz t, ct, dwt, taels (3), mommes, gn, ti, N, custom unit
Repeatability (std dev)
0.1 mg
0.1 / 0.5 mg
Linearity
± 0.2 mg
± 0.2/0.5 mg
Power requirements
110-120 V ac, 220-240 V ac, 50/60 Hz
Display
0.6" (1.5 cm)
Platform size
3.5" (9 cm) diameter
Dimensions (W x H x D)
9" x 15.3" x 14" (22.8 x 38.7 x 35.5 cm)
*Draft Shield Included
**For Internal Calibration option, add $200

Explorer Pro Analytical Features

The Explorer Pro series four analytical models with capacities up to 210 grams and 0.1 milligram readability for maximum accuracy. The new draftshield design and contoured fit provide optimum draft protection from wind currents for superior balance stability and reproduciblilty in challenging environments such as high-traffic areas. Explorer Pro is perfect for University research, teaching laboratories and general lab applications

Percent Weighing


Percent weighing allows you to place a reference load on the pan, and check other samples as a percent of the reference load. Each new sample will be a "percentage" of the original reference, the display shows the variance in - or + percent of the reference

Weighing


Basic weighing with primary and secondary weighing units, time, date and capacity bar

Gross/Net/Tare


G/N/T is an application mode commonly used when you need to identify the individual weights of the container, the material and both together. The container weight is the Tare weight, the material is called the Net weight and the container and material together are called the Gross weight. The net weight is displayed on the readout.

Explorer Precision Balances


Explorer Pro Precision
(EP213, EP413, EP613, EP413D, EP612, EP2102, EP4102, EP6102, EP4101, EP6101, EP8101)


Ohaus Explorer Precision Balances

FREE UPS Ground Shipping
(within the 48 continental US States)

Shipping Weight: 30 lbs.


Explorer Pro High Capacity
(EP12001, EP22001, EP32001)
Model Number:
EP213
EP413
EP613
EP612
EP2102
EP4102
EP6102
EP4101
EP6101
EP8101
EP12001
EP22001
EP32001
Capacity (*draft shield included)
*210 g
*410 g
*610
610 g
2100 g
4100 g
6100
4100 g
6100 g
8100 g
12000
22000
32000
Readability (g)
0.001
0.001
0.01
0.01
0.01
0.01 g
0.1
Price
$2500.00

$2722.22

$3000.00

$2200.00

$2500.00

$2722.22

$3000.00

$2500.00

$2555.56

$2300.00

$3707.89

$4026.17

$4237.72

Model with AutoCal:
EP213C
EP413C
EP613C
EP612C
EP2102C
EP4102C
EP6102C
EP4101C
EP6101C
EP8101C
EP12001C
EP22001C
EP32001C
Price with AutoCal
$2555.56

$2777.78

$3055.56

$2500.00

$2555.56

$2777.78

$3055.56

$2555.56

$2611.11

$2550.00

$4026.17

$4301.94

$4514.44

Legal-For-Trade
Model:
EP213N
EP413N
-
EP612N
EP2102N
EP4102N
EP6102N
EP4101N
EP6101N
EP8101N
-
-
-
$2350.00

$2833.33

-
$2300.00

$2350.00

$2833.33

$2350.00

$2400.00

$2600.00

-
-
-
Legal-For-Trade
& AutoCal
Model:
EP213CN
EP413CN
EP613CN
EP612CN
EP2102CN
EP4102CN
EP6102CN
EP4101CN
EP6101CN
EP8101CN
-
-
-
$2400.00

$2888.89

$2850.00

$2350.00

$2400.00

$2888.89

$2850.00

$2400.00

$2450.00

$2650.00

-
-
-
Repeatability (std dev) (g)
0.0005
0.0005
0.005
0.05
0.1
Linearity (g)
± 0.002 g
±0.002
±0.02
±0.04
±0.1
±0.4
Weighing Modes
gram, kilogram, pound, ounce, troy ounce, carat, pennyweight, Hong Kong Tael, Singapore Tael, Taiwan Tael, mommes, grain, tical, Newton, custom
Application Modes
weighing, parts counting, animal/dynamic weighing, checkweighing, percent weighing, filling, gross/net/tare weighing
weighing, parts counting, filling, animal weighing, checkweighing, differential weighing, formulation, quick check, statistics
Features
RS232 port, auxiliary display port, GLP protocol, selectable language display text, selectable displayed information settings, selectable environmental filters, selectable auto-print settings, integral weigh below hook, contrast & brightness control, protective in-use cover
RS232 port, auxiliary display port, GLP protocol, selectable environmental settings, selectable auto-print settings, weigh below hook, contrast & brightness control, protective in-use cover
Tare Range
full capacity by subtraction
Stabilization Time
3 seconds
4 seconds
Operating Temperature
50° to 86°F / 10° to 30° C without internal calibration / 50° to 104°F / 10° to 40° C with internal calibration
Calibration
External / Internal
Display
High Resolution LCD Dot Matrix with back light
Power Requirements
100-120 V ac, 220-240 V ac, 50/60 Hz
Pan Size (in/cm)
4.7" (12 cm) diameter
6.8" x 6.8" (17.2 x 17.2 cm) with windshield
8" x 8" (20.3 x 20.3 cm)
11" x 14" (28 x 35.6 cm) av
Dimensions (W x H x D)
8.3" x 13.8" x 13.8"
(21 x 35 x 35 cm)
8.5" x 4" x 13.8"
(21.5 x 10.3 x 35 cm)
14" x 5.5 " x 17.5"
(36 x 14 x 44.5 cm)
Net Weight
13.2 lb (6 kg)
11 lb (5 kg)
27 lb (12.3 kg)
Model Number:
EP213
EP413
EP613
EP612
EP2102
EP4102
EP6102
EP4101
EP6101
EP8101
EP12001
EP22001
EP32001
Type
Explorer Pro Precision
Explorer Pro High Capacity
*Draft Shield Included
**For Internal Calibration option, add $200
Explorer Pro Precision Features
The Explorer Pro Series features 12 precision toploader models with capacities up to 8100 gram and readabilities to 0.1 g for exceptional accuracy. The rugged design and versatility make the Explorer Pro ideal for applications in pharmaceutical, chemical, research and quality control and University research.
Explorer Pro precision balances are available with NTEP Legal for Trade certification (contact us for details)
Explorer Pro High Capacity Features
The Explorer Pro Series features 3 high capacity precision toploader models with capacities up to 32,000 grams and readabilities up to 0.1 grams. The extra large 11" x 14" platform is ideal for laboratory and industrial applications in concrete/asphalt production, agriculture and quality control. Explorer High Capacity has been upgraded with Check and Differential Weighing, Statistical Functions, Formulation and Filling.
Filling
Filling permits the user to preset a target reference weight, then add material to the balance to meet the target weight. The display shows the preset target weight and the percentage of the target by monitoring the differential data, the fill bar is split in two sections for fast filling up to 90%, then slower accurate fill to reach target (100%) weight.
Checkweighing
Checkweighing is used when items need to be checked against a preset target, after the target weight is set, and over/under parameters are established. Checkweighing is measured as a factor of over the target, under the target or accept. The display automatically shows the difference in percent and weight.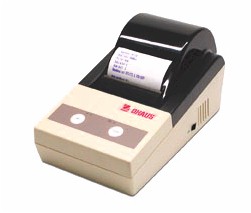 Ohaus is introduces its newest compact impact printer, the SF42. Coupled with an Ohaus balance featuring GLP functions such as the MB45, Explorer and Navigator, the SF42 is the economical choice for providing a fully documented audit trail. Audit trails required to meet today's most stringent standards for quality and verification.
Compact design
Quick and easy setup
Ink ribbon prevents fading
Self test mode assures proper functionality
Compatible with Ohaus balances equipped with RS232 interface
General Specifications:
Interface: Serial (RS232 Compatible)
Printer Method: Impact Dot Matrix (Inked Ribbon)
Character Format: 5 x 7 Dot Matrix
Character Dimension: (in/cm) 0.04 x 0.10 / .11 x .26
Character Density: 42 Characters per line
Printing Speed: 40 lines per minute
Paper Width: (in/cm) 2.25/5.7
Power Adapter: AC adapter (110/120, 220/240 VAC) 50/60Hz
Power: 9 V dc, 600mA, (center pin positive)
Operating Temp. 32°to 104F°/0°C to 40°C
Dimensions (W x H x D) (in/cm): 4 x 3.7 x 7.3 / 10.4 x 9.6 x 18.6
Weight (lb/kg) 1.3 / 0.59 (without internal paper roll)
Interface Specifications:
Connector: 25 Pin D type (Female)
Baud Rate: Selectable (1200, 2400, 4800, 9600)
Data Bit: 7 or 8
Parity: Even, odd or none
Stop Bit: Auto select