Minebea Intec Miras Multi-Functional Bench & Floor Scales



Authorized Dealer

The Miras platforms feature a rugged construction and overload protection for industrial applications. The following built-in applications can be conveniently selected at the simple touch of a key: counting, checkweighing, mass unit conversion and toggling between gross | net values. The scales can be operated using an AC or a DC power source.
Minebea Intec Scales >> Industrial Scales
Minebea Intec Miras Multi-Functional Bench & Floor Scales Specs:
Miras Model
IW2P1U-15ED-L
IW2P1U-300GF-L
Price

$513.75
N/A

$896.25

Capacity
33 lbs.
660 lbs.
15 kg
300 kg
Readability
0.001 lbs.
0.05 lbs.
1.0 g
20.0 g
Max. Display Resolution
1:15000
Tare Range (subtractive)
15 kg/33 lbs.
300 kg/660 lbs.
Repeatability
± 2.0 g/0.005 lbs.
± 40.0 g/0.1 lbs.
Linearity
± 2.0 g/0.005 lbs.
± 40.0 g/0.1 lbs.
Corner Load (@ 1/2 capacity)
± 4.0 g/0.01 lbs.
± 100.0 g/0.2 lbs.
External Calibration Weight
5 kg
100 kg
Base Frame Structure
Mild Steel/Painted
Leveling Component
External level bubble with adjustable leveling feet and locking nuts
Weighing Units
Grams, Kilograms, Pounds, Ounces
Applications
Weighing, Unit Toggling, Counting, Check Weighing
Display Type
LCD backlit amber display, 6 digits, Character Height: 1 inch (25mm), 7 Segment
Audio Tone
No
Stabilization time (average)
3 seconds
Pan Dimensions (W x D)
11.8" x 15.75"
19.7"x 25.6"
Base Dimensions (W x D x H)
11.8" x 15.75" x 5"
19.7" x 25.6" x 6.2"
Column Height
19.7" Stainless Steel Tube
29.5"
Net Weight, approx.
27 lbs./13 kg
84 lbs./38 kg
Safe Overload Capacity
150% of rated capacity
Overload Indication
Displays "OL"
Underload Indication
Displays "UL"
Adaption to Ambient Conditions
By selection of 1 of 4 optimized filter settings
Display Update
0.1-0.8 seconds (depends on the filter setting selected)
Pan Material
Stainless Steel
Interface
Bi-directional RS232 (optional)
AC Power Requirements
120V AC (50/60 Hz) internal universal switching power supply (100-240V AC accepted)
Battery Operation
Optional using 6 "D" size 1.5V dry batteries
Power Consumption (avg)
4 VA
Optional Accessories
RS232 Data Cable, Data Printer, In-Use Display Cover, Wall Mount Bracket, M12 castor wheels
Operating Humidity
Less than 85% RH, no condensation
Operating Temperature Range
14°F to 104°F (-10°C to 40°C )
Minebea Intec Miras: Quality Meets Affordability
Minebea Intec Miras is a unique Multi-functional line of industrial bench and floor scales. Builtin overload & wash-down protection, portability (with optional castor wheels), and easy to use functionality make this affordable line of scales a winning combination. Weighing capacities range from 6 kg (13.2 lbs) to 300 kg (660 lbs) in three different platform sizes.
Miras platforms are equipped with painted steel frames and removable stainless steel weighing pans for years of dependable service and easy cleaning. Stainless steel column (tube) is standard with all models and is easily removable. Indicator can be set on a bench or adapted with our optional wall bracket for easy mounting.
Built-in applications and features include; check-weighing, mass unit conversion, counting and Gross|Net displayed and printed features. The Miras series of scales are ideal for multiple weighing application including incoming|outgoing inspection, inventory management, quality control, packaging, formulation and more
Simple "functionality" and "general" weighing
Easy set-up and installation allow you to get started quickly and efficiently. Attach the column and plug your scale in and you are ready to weigh – minimal warm-up time is needed. Large "On|Off", "Tare" & "Zero" keys make for convenient and easy use.
Checkweighing
Selectable numeric lower and upper limits provide easy and convenient set-up. Display shows HI|OK|LO for easy operator reference.
Simple counting function
Select fixed reference sample (5, 10, 20, 50, 100) from menu. Place exact number of parts to be counted onto the scale and press enter. Then place the remainder of your parts to be counted; the total number of pieces is shown on the display instantly.
Net|Total formulation
With Miras indicators, users can deduct and store the weight by pressing the tare button repeatedly, up to the scale's capacity, and can then toggle between gross and net weight. This function is ideal for weighing multiple ingredients for formulation purposes.
Easy-to-use tare function with Gross|Net weight display
Place a container on the platform and press the tare key. The tare is automatically stored in memory and the net weight is displayed. The user can easily toggle the display between gross and net weight by pressing the Gross |Net key.
Minebea Intec Miras Scales: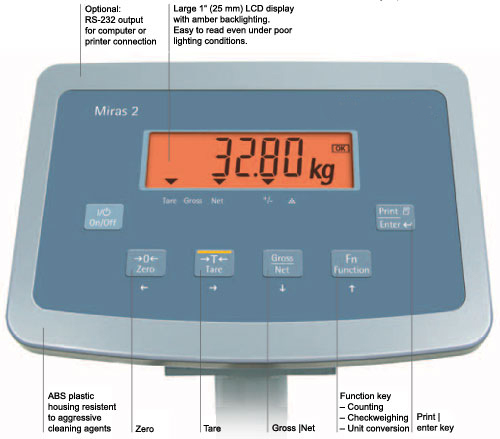 Features
– Large (1 inch) backlit "Amber" LCD display
– 15,000 digit external displayed resolution
– Fast stabilization time
– Selectable weighing units: kg, lbs, oz & grams
– Checkweighing with numerical input (HI|OK|LO displayed symbols for easy reference)
– Counting with fixed reference samples: 5, 10, 20, 50, 100
– Stainless steel weighing pan
– IP65 protection (weighing platform)
– Optional Battery operation (six "D" size batteries)
– Built-in overload protection (150% of capacity)