Salter Brecknell ES-2500 Equestrian Scale / Large Animal Vet Scales
More than 200 years ago Richard and William Salter created the first spring balance. In doing so they have founded one of the most respected names in the weighing industries, "SALTER". Salter has remained a leader in the weighing industry throughout the years, and will continue to bring you top of the line products with the latest technology available.
Salter ES-2500 equestrian scales / large animal vet scales have a large 2500 lb capacity with 0.5 lb readability and a full size, low profile platform for ease of use. The low profile design prevents the high "step up" that makes animals skittish, and the protective mat prevents skidding and protects the animal's feet. Battery or AC operation with a detachable indicator. The Salter Brecknell ES-2500 equestrian scale / large animal vet scale has a durable design for rigorous applications. This veterinary scale will insure years of accurate use in even challenging environments.
Features
Capacity x Readability: 2,500 lb x 0.5 lb (1,000 kg x 0.2 kg)
Accurate electronic weighing of larger animals removes the guesswork for administration of feed and medicine
The largest horses average below the capacity limits of this equestrian scale. Good for all breeds.
Full size platform for ease of use. The scale is large enough to avoid making animals skittish while weighing.
Low profile to avoid high "step up". Helps limits the shyness of animals when stepping onto strange surfaces.
Hold function for single user weighing. Easy to use hold feature enables the scale to capture the weight and retain it while you tend to the animal.
Protective matting for ease on animal hooves. No hard steel surface to allow the animal to slip or damage their feet. A full 0.5" protective diamond surface mat minimizes injuries.
Battery operation for remote locations. Full function with no AC power attached. AC adapter is included for charging or full time operations.
Detachable indicator for battery charging. The indictor may be removed and placed near AC power for charging. No need to move the entire scale.
Durable design for rigorous applications. This scale will insure years of use in even challenging environments.
Specifications:
Capacity and Resolution— Salter ES2500 can be used in either Metric or Avoirdupois weighing modes:
2,500 lb x 0.5 lb
1,000 kg x 0.2 kg
Platform Dimensions: 40 in x 80 in x 4 in (1.016 m x 2.032 m x 0.1 m)
Indicator Dimensions 8.86 in x 2.83 in x 5.51 in (Includes stainless steel indicator stand for
wall or tabletop mounting. Optional floor stand available)
Indicator Features: Stainless steel Enclosure, Visible 0.8", six digit Display, Battery powered (6VDC, internal lead-acid rechargeable battery with approximately 20 hours Battery Life)
Auto Off feature for power savings
Operating Temperatures: 14° F to 104° F (10° C to 40° C)
Internal resolution: 150,000 divisions
Display rate: Update 8 times per second
Average Weight Hold Feature
Powder coated painted platform for corrosion protection with mild steel construction
150% Overload protection
100% end loading capacity
Load Cell Specifications: Alloy tool steel, Potted for environmental protection
ABS Junction box for accurate signal trim and cornering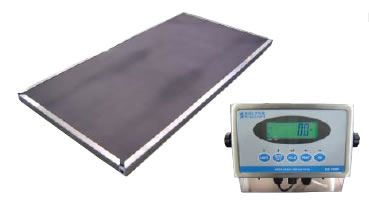 Full size platform for ease of use and Detachable indicator for battery charging. The indictor may be removed and placed near AC power for charging. No need to move the entire scale. Indicator includes stainless steel indicator stand for wall or tabletop mounting